Words and images by Adam Blake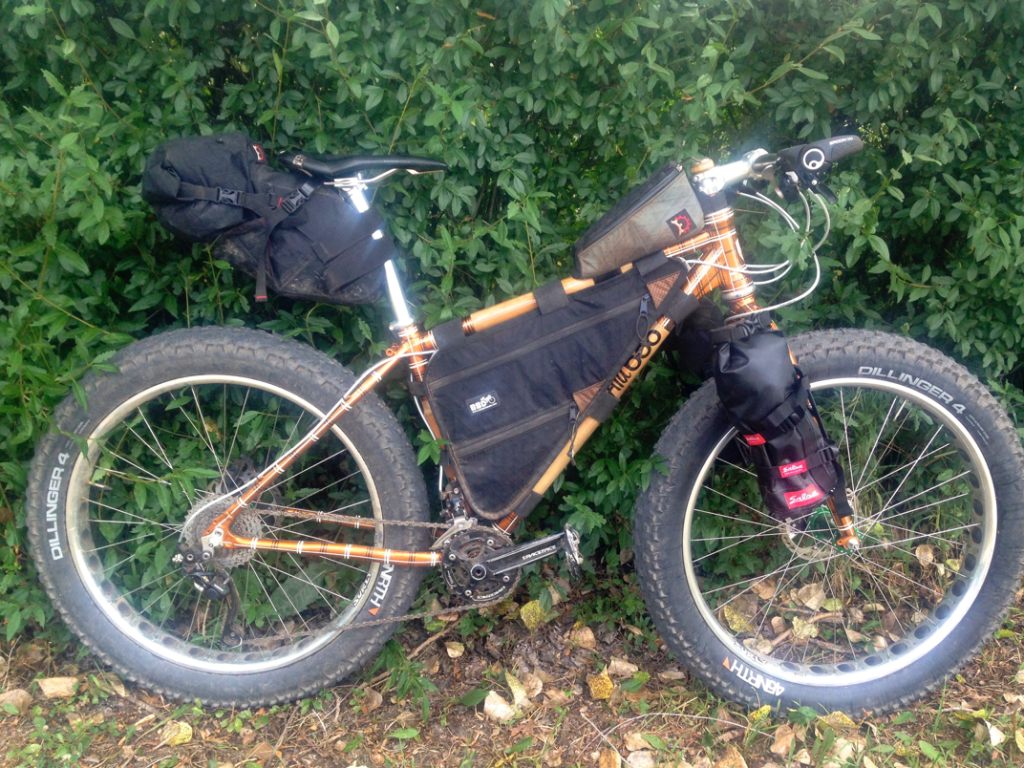 One of my favorite overnights is climbing to the top of Timber Trail in Lory State Park.  The route is challenging, forcing you to hike, bike, and trudge your way to the top.  The entire trip is about 35 miles and has about 3,000 ft of elevation gain; 2600 up to the top.  I've done this route biking and hiking, but this time we had the added variable of doing it in the dark!
I chose to ride my Alubooyah for this journey.  There are a lot of rocks on two of the climbs and the ability to just gear down and crawl across the rocks was an awesome feature of the 4" wide tires.  The ability to just bounce off other rocks was also helpful, especially at night.  The Alubooyah frame handles superbly even when weighed down.  The Alubooyah fat bike fork also has triple bottle mounts on each leg so I could utilize storage there instead of up higher on my bars.
I run a traditional 2×10 Shimano XT drivetrain with a Raceface Turbine crank.  I like having the little chainring for climbing and keeping my chain a little straighter.  Both wheels are set-up tubeless with Gorilla tape and Stan's sealant.  45NRTH Dillinger 4 tires (that will soon be switched to Schwalbe Jumbo Jims) on Surly Marge Lite rims, laced to Industry Nine fat hubs, round out the wheelset.  I was borrowing Ben's wheels while mine were at paint–thanks Ben!
Thomson Masterpiece post, Elite X4 stem, and 12º Ti bar with Ergon GS2 grips and Ergon SME-3 Pro saddle as well as XT brakes round out my cockpit.  I run Shimano XT pedals.
I equipped the fat-bike for this journey with Revelate, Salsa, and Bike Bag Dude bags.  I chose the fat-bike because of the mounts on the fork.  I installed Salsa Anything HD cages on each fork leg and with the warm temperatures it allowed me to not carry a bag on my handlebars.
I like reducing the weight up front if possible, because I feel like it affects my steering–a large load on the handlebars makes the bike's handling a little floppy.
In colder weather I would pack my Sierra Designs down sleeping bag, as well as possibly even my Kelty tent.  For this adventure I knew it would stay warm at night so the Anything Cage bags worked perfectly with my Revelate Viscacha to store all of my sleeping gear.
My Gear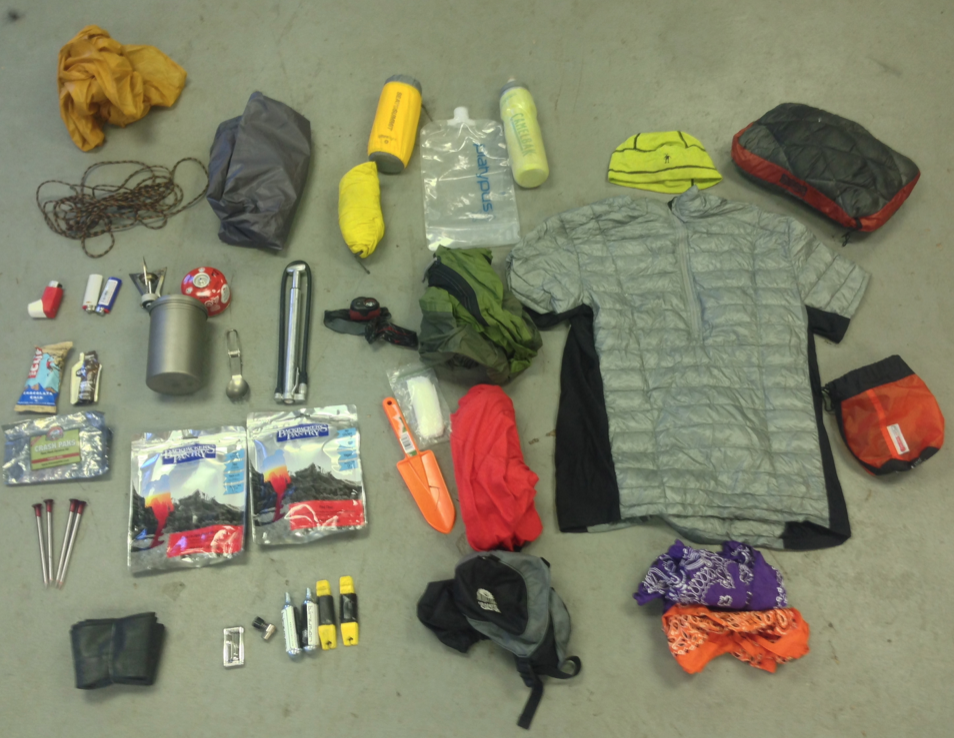 Salsa Anything bag/cage (L)
Sea to Summit Ultralight sleep pad in its own stuff sack
Novak Rain cape stuffed in its own pocket
Sierra Designs DriDown Bettervest actually stuffed into the bag for my bag liner
Salsa Anything bag/cage (R)
Vargo BOT Ti bottle/pot
MSR Pocket Rocket stove and fuel container
Two bandanas I use as cooking mitts and could use for multiple other things.  Plus side they keep things nice and secure in the BOT
REI footprint I use for a tarp tent
Big Agnes Fly Creek Ultralight footprint for a ground cloth
Revelate gas tank 
Toilet paper in a plastic bag
2 packs of Gu energy- Vanilla Bean and Espresso Love
Chocolate chip Cliff bar
2 lighters
Optimus Ti folding spork
Inhaler
Phone, cash, card in a Ziploc bag
Bike Bag Dude Custom frame bag
2-liter Platypus bladder filled with water
Brave Soldier crash and first aid pack in its supplied dry bag
Fat tube even though we were both running tubeless
Lezyne pump that works awesome
2 Pedros tire levers both wrapped in Gorilla tape
About 20 ft of paracord
2-25 gram CO2 canisters
Genuine Innovations CO2 head
Lezyne micro tool (*I need a more comprehensive multitool, with a chain tool on it.  That is in the works.  Another must is a T25 for my mtb fork axle)
4 carbon lightweight stakes
Surly fat tube- would be a 26×2.4 tube instead for anything longer to save size and weight
Revelate Viscacha saddle bag
2 Backpacker's Pantry freeze-dried packages, one for dinner and one for breakfast.
Sea to Summit Reactor bag liner that I use as a warm weather bag with my…
REI Minimalist bivy: size long.  This and the bag liner are both put in a granite gear compression sack and packed in between the two food packages right next to the seatpost
Sierra Designs DriDown pillow.  For a longer trip I would entertain getting an inflatable pillow, but for an overnight this pillow is comfy
Plastic shovel to accompany aforementioned TP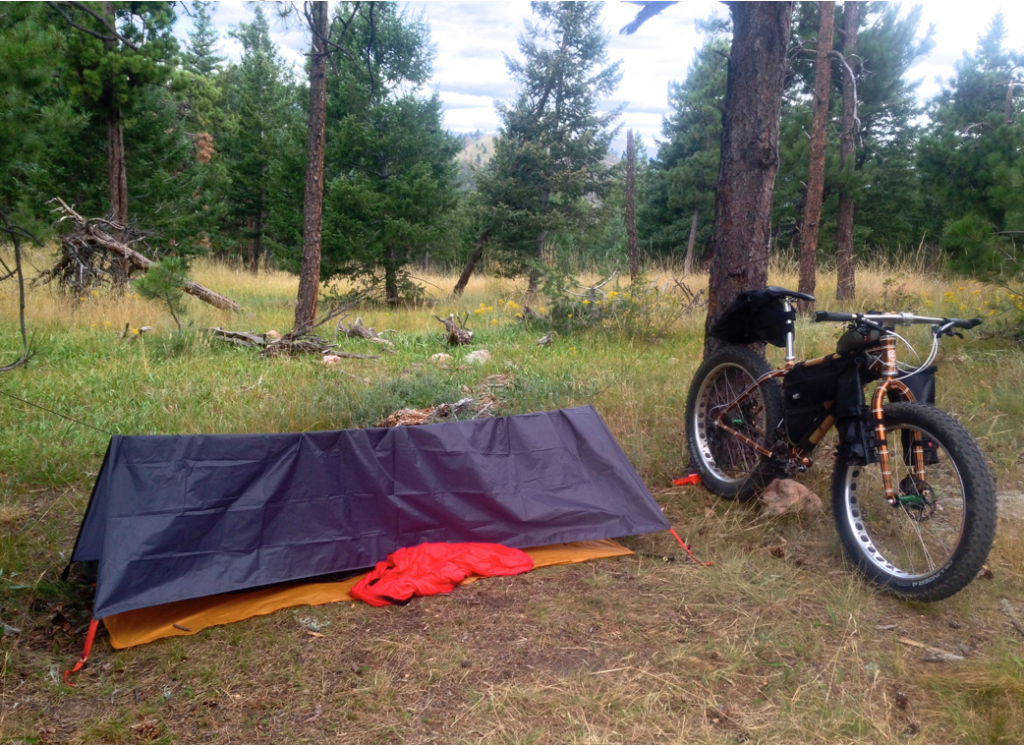 I needed to have everything I had with me, even if I didn't use it this time.  It was perfect weather to ride in jersey and bibs, and I kept two bottles in my back pockets, as well as my trash.  I have a feedbag and will probably get a second and would use those for water bottle storage, as well as for more Gu packets and trash if it was a longer trip.
On a longer trip I would also take a backpack and pack more food, water, and maps (if needed) as well as a lot of the things from the gas tank, allowing it to be used for other things.
I have been constantly evolving my gear to make it is light, packable, and hopefully as durable as possible.  I easily kept warm enough with the DriDown shirt, and my bag liner at night, but like I said I have made preparations to be able to camp down well into the double if not single digits.