The AluBOOYAH ski mountaineering bike has been 6 months in the making; and draws inspiration from a recent winter trip to Torreys Peak, a 14,275-foot peak in Clear Creek, Colorado. While climbing the peak, I noticed a pristine couloir full of 75 degree sloped ice across the valley. This bike was designed for a trip to climb that ice–a trip that requires significant off-road travel, navigating fields of powder, ice climbing, and an expedient return before the winter dark.
The trip would go something like this: 3-4 miles of snow mobile/ski track on forest road, a mile or so of hip-deep powder, then the 50-60 meter climb. Return the same way you came. Instead of hiking or skiing up the 3-4 mile road, I've always wanted to somehow strap my skis to a fat bike, and ride the snow mobile track. I would then leave the bike at the start of the deep snow, and ski up to the base of the climb. This is what this bike is all about–pushing the limits of human powered access to the outdoors.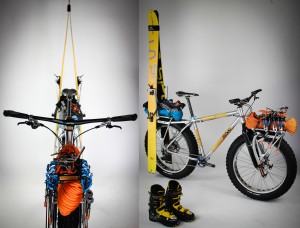 Boo Bicycles has teamed up with some incredible companies to take this bike from dream to reality.
The ice gear is from Petzl, and includes a few of the sport's workhorses: Dartwin crampons, Quark tools, a Reverso 4, and plenty of Nitro 3 energy absorbers. Add two half ropes, and this ice rack is ready to help you up almost any sustained piece of frozen water safely and efficiently.
The skis are La Sportiva Hang5, with RT bindings. They are accompanied with the La Sportiva Spectre boot, which has unprecedented cuff rotation in Walk-Mode, making it ideal for ski mountaineering and ice climbing. We also have the La Sportiva pre-cut skins for the Hang5.
The racks are from Old Man Mountain (OMM), and are brushed aluminum, just for us, to match our frames. We also offer custom paint (from a local hot rod painter) on all Aluboo models, which means customers can also get their OMM aluminum rack painted to match their bike!
The ski mounts were designed in-house, CNC'd out of aircraft-grade 6061 aluminum, and can be anodized to match other color schemes. While we prefer the fit, look, and craftsmanship of OMM racks, these mounts will fit any rack with a 3/8″ pannier hoop. Also, they pivot on the pannier hoop to fold down and out of the way while not carrying skis, and also allow you to dig the ski tails into the snow on each side of the bike (in order to keep the bike upright while loading and unloading). They are designed to fit any ski, less than or equal to 125 mm underfoot, with tech style bindings of the ISO 9523:2008 standard. If we find sufficient demand, we will be offering these mounts as a product on our website next Fall (pricing TBD).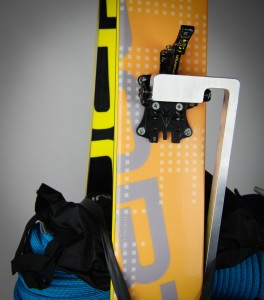 The custom aluminum ski mounts were designed in-house. They securely fasten a ski with tech style bindings to the bike, and hinge on the pannier hoop of an Old Man Mountain rear rack.
The bike is setup with a Shimano XTR 1×10 group set, with a Race Face turbine crank and narrow-wide ring. The rotors are Shimano ice tech, with ice tech radiator brake pads, which were designed to handle the sort of heat created from stopping this rig when fully loaded.
Here are some more pics to drool over…stay tuned for more photos and video of this rig in the field!