Bicycle racing is a tough sport.  And bike racers are tough people.  But every once in a while, a race comes along that sets the new "high water mark" for difficulty/struggle/insanity.  Yesterday was pretty close to that for me!
After a wonderful week cavorting through the high mountains of Summit and Pitkin Counties, going between Glenwood Springs, Aspen, and Breckenridge for various matters of family, friendship, and business, I shacked up in Leadville  on Friday evening with my good buddy Mike Gettinger.  As a Boo customer and dealer, and owner of MG Cycle & Sport, Mike was rocking his Boo RS-M29er which is almost identical in build to my own, save for his use of two chainrings.  One is just fine for me 🙂
Silver Rush is actually 46 miles, but don't let that fool you.  It's a beast of a ride, from its incredibly high altitude to its punishing terrain and ceaseless climbing.  My good buddy Alex Hagman, the 2011 overall winner, told me this…but it never really occurs until you're "in the shit".  And believe me, it's war.
I'll get right to it: I was riding great.  I haven't ridden this well the whole season.  The legs were turning well, the power was coming without sputtering, and I was in a great mental place and riding smart/confident/controlled.  After the first gut-wrenching efforts, I was in 4th to 6th place throughout the rest of the race.  Out of 712 entrants.  I was stoked.
The race was won last year with a 3:58:57, and while Bryson Perry was hosting a clinic on how to sprint for four hours on a mountain bike, we were still on track for a sub-4 performance, and I was just ready to make the final descent back to the finish and claim my first podium performance this season…when the rear rim started touching the ground.
I decided, after a few epic rides and races through the roughest of terrain and not a single tire issue, that I would run an ultra-light setup for this race.  That doesn't mean change tires, which is a big no-no, but it does mean a medium-sized no-no: as in NO TUBES OR PUMP.  Well, with just a few miles left of descending in the race, and a solid grip on fourth, I decided I would pray to the cycling gods and ride it in and hang on for dear life.
The tire came off the rim, then I popped the wheel out, threw the tire, and proceeded to ride JUST THE BARE RIM on the rocky, gnarly descent to the finish.  Still in fourth, I was gutted when I was passed by two guys with whom I'd done battle the previous 3.5hrs and lose my podium.  But I was still on track for a sub-4:15 performance which would net me a Gold Corral starting spot at The Big One: the Leadville 100 on August 11th, just four weeks away.
After much pounding, some severe leg cramps, and some of the most difficult descending I've done in my life, the wheel gave out.  And it went out BIG TIME!
I dragged the Boo, carried the Boo, hoisted and tossed and slid the Boo for miles.  Literally in the middle of the woods, so far ahead of most riders that I was by myself, for over an hour I did this.  My Boulder buddy Colby Pierce, who was himself solidly in second place overall and flatted out, rode by me after an eternity and we commiserated for a while…but I was still walking after he rode away.  I had just climbed almost 8,000 feet in an insanely hard mountain bike race, paced perfectly–i.e. was absolutely 100% finished by the time I reached the final descent–and was now going through something that DEFINITELY was not part of the plan.  CRAAAAAACK!!!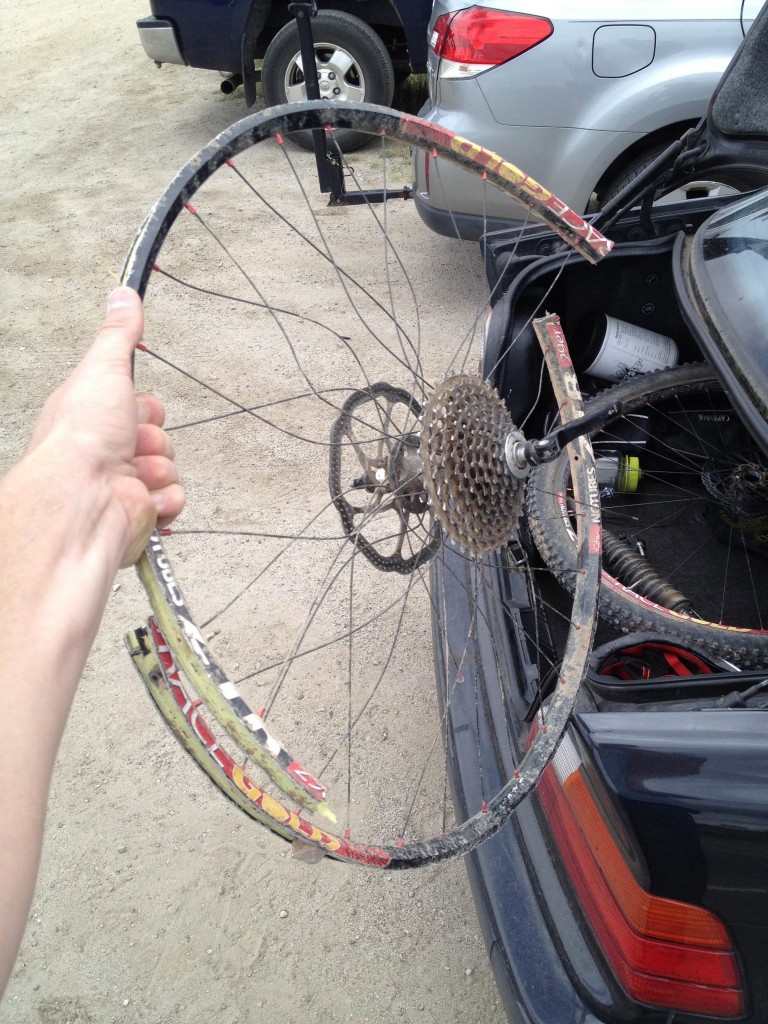 Finally, I saw a truck.  Not just any standard pick-up, no…a monstrous black diesel with a home-made smokestack behind the cab that could swallow a pig.  The driver was getting out to unlock a gate guarding a gravel rode to nowhere while his tattooed buddy stared as I dragged this piece of broken machinery towards them.  "How far to Leadville from here?" I sighed, almost dead to the world and mentally numb.
"Um, downtown Leadville??" as if I was asking about going across town through LA.  "That's like another six miles, dude."
After describing my experience and begging for mercy, they told me to throw the bike in the bed and they'd take me around to the start/finish.  Then things got interesting…
The first thing they mentioned was their buddy Jake…who apparently got shot by the cops the night before.  After throwing a pipe bomb at them.  This story continued as I made some space for myself amongst shotguns and nine millimeters strewn throughout the backseat.  I slowly prayed to the Powers That Be and tried to make friends without making waves.  Thankfully, the drive was short.
I got to the finish, threw my bike in the ditch, and hitch hiked back to my hotel to get my car, drive back for the broken Boo, and get back to The Fort to lick my wounds and wash away my sorrows with some excellent high-gravity Lion Stout.  I was pleasantly surprised by the excellent split times and overall stupid-fast pace we were doing, and although I have a big, fat DNF next to my name, I still have some good intermediate results to go by…and prove I'm not lying!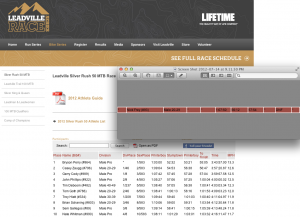 Not that I consider Silver Rush truly a success, but the legs were great and talk about a memory-maker and new high water mark!  All sights set now for the infamous Leadville 100, on August 11th.  You can hold me to it: I'm going for top-ten, and I'll be packing…a spare tube and pump, that is 😀
P.S. my good buddy Drew Haugen recently DID teach me how to pack and unload, and I felt a lot better afterwards!