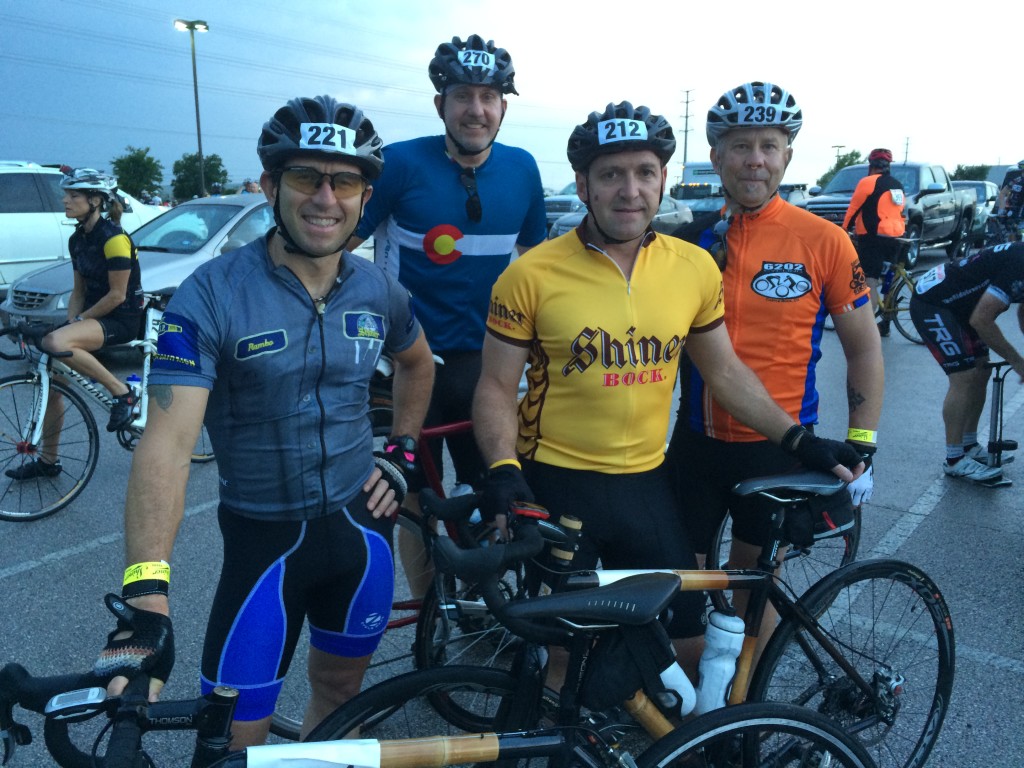 Words and images by Chad Schneider
I first learned about Boo Bicycles two years ago while watching the Pro Cycling Challenge.  The Boo Bus was parked on the westside of Horsetooth Reservoir in Fort Collins, Colorado next to the Rapha bus.  They were letting people take their bikes out for a test drive and serving some of Fort Collins' local brew.  While I didn't take one of their bikes for a spin that day (my brother and I were far too interested in the beer), I did make a point to someday find out why someone would want a bamboo bike.  As fate would have it, I found out via an unusual source.
Last fall I went to visit Adam at Newstalgia Custom Paint to get some touch-up work done on a car he had painted for me.  Sitting in his office was his personal custom-painted Alubooyah fat bike.  As it turns out, Adam paints all of the frames for Boo.  He told me a little bit about his bike, how he enjoyed the ride of the fat bike, how strong the frames are, and the 'wow' factor he received when people saw the bike.  So with Adam's endorsement, I decided to get my brother and myself bamboo road bikes.
I had only recently gotten into road cycling, while my brother had been an avid cyclist since college.  So I decided to get him a frame as a birthday present, and see how he liked it before getting myself one.  Upon picking up the frame I met Ben who stayed late just so I could get the frame after work.  He congratulated me on my new purchase and was surprised that I had bought it for someone else.  As it turned out, I ended up going back to the shop a week or so later to have them ship the frame and commented on how I wished they still offered a SRAM group choice versus the Shimano group (both of which I like depending on the type of bike I'm riding.)  That's when Adam and Ben told me they still had some SRAM components left over from a few of their cross bikes and could get me into a nice road bike at a pretty good price.  So naturally I said 'yes' and one custom paint job and a few weeks later, I had my first Aluboo bike.
–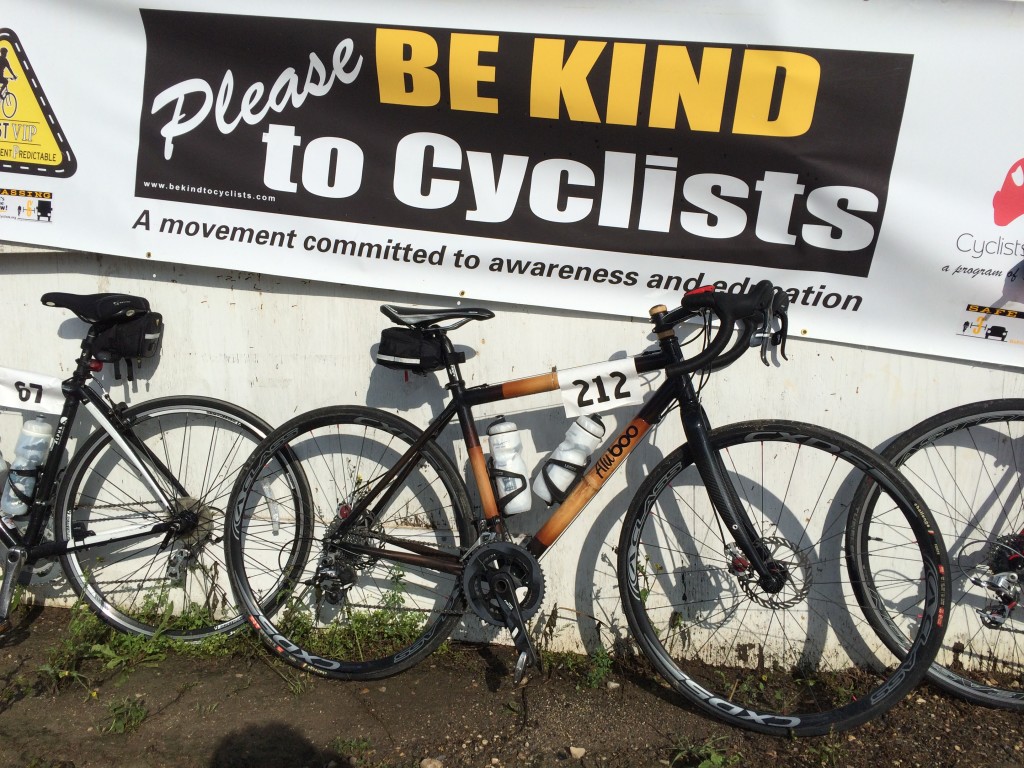 The first major supported ride of the year was to be ten weeks away–the Shiner GASP Ride from Austin, Texas to the Spoetzl Brewery in Shiner, Texas where they make, you guessed it, Shiner beer.  My brother would be riding his Aluboo along with two other friends on aluminum and carbon bikes.
The ride takes you through 100 miles of Texas hill country over a variety of paved terrain (well mostly paved), with most of the vertical ascent coming in the last 20 miles.  I had done this ride the previous year on my steel bike with minimal training (28 miles total) so I was anxious to try it again with a new bike (and some more saddle time).  My very first training ride on my Aluboo was 40 miles which felt more like 10.  I had absolutely zero hot spots and the bike was a joy to ride.  Even if I had quit training at that point, I would have felt much more ready for the ride, but just to make sure I put in an extra 1,000 miles in the meantime.
The day of the race did not start out the way I had planned.  It had poured rain for several hours prior to the race.  While it wasn't raining at the full 100-mile start point, the race had to be delayed due to a deluge at the Half Gasp 50-mile start.  Having never ridden in the rain or in wet conditions, I was a little apprehensive about the ride.  After a 15-minute delay, we sang the national anthem and headed out for Shiner.  Approximately a quarter mile into the ride, I was a little too anxious on shifting and managed to pull a Schleck and drop my chain.  I tried calling out to my group of three riders to wait, but they either couldn't hear me or had decided they no longer needed my company.  In either event they kept going and I pulled over to the side of the road to put my chain back on the ring.
Lesson One: no matter how nice a bike you have, it's never a match for the stupidity of its rider.  After fumbling with the chain for a minute and uttering a few choice words, I set out to catch my group.  Fortunately the Aluboo is very responsive when you want to put the power down.  I accelerated past a few hundred riders and settled into a time trial pace until I finally caught up with the gang after a few miles.  At least the legs were now warmed up.
We had been warned that there was some rough road around mile 9 of the ride.  Just about the time I was catching my breath from my mini time trial, we found out what they meant by rough road.  The road had been stripped in preparation for repaving.  This left a grooved, waffle pattern on the road which fell somewhere between chip seal and cobblestone.  You could tell it was coming just by listening to all of the bikes chattering.  I braced myself for the jarring pavement and then realized that it didn't feel nearly as bad as I was expecting.  The Aluboo absorbed a lot of the high-frequency vibration leaving a sort of muted hum through the bike.  Although it didn't feel that bad, judging by the number of water bottles littered along the two mile stretch, it must have been pretty rough.
At mile 17 we pulled into the first rest stop.  There were only a few other riders there so we leisurely refilled water bottles and took in some calories.  Good thing we didn't wait too long, within a few minutes the place was packed.  As I was grabbing my bike off of the rack to take a few photos I had several people ask me about the bike.  Surprisingly, they had heard of Boo Bicycles and wanted to know more as they were planning on moving to Fort Collins later this year.  While talking to them I saw several other people pointing at the bikes and overheard one of them say, "I don't know much about them other than the company is out of Fort Collins."  I was soon to learn that my brother's bike and mine were a frequent topic of discussion at each stop and occasionally during the ride.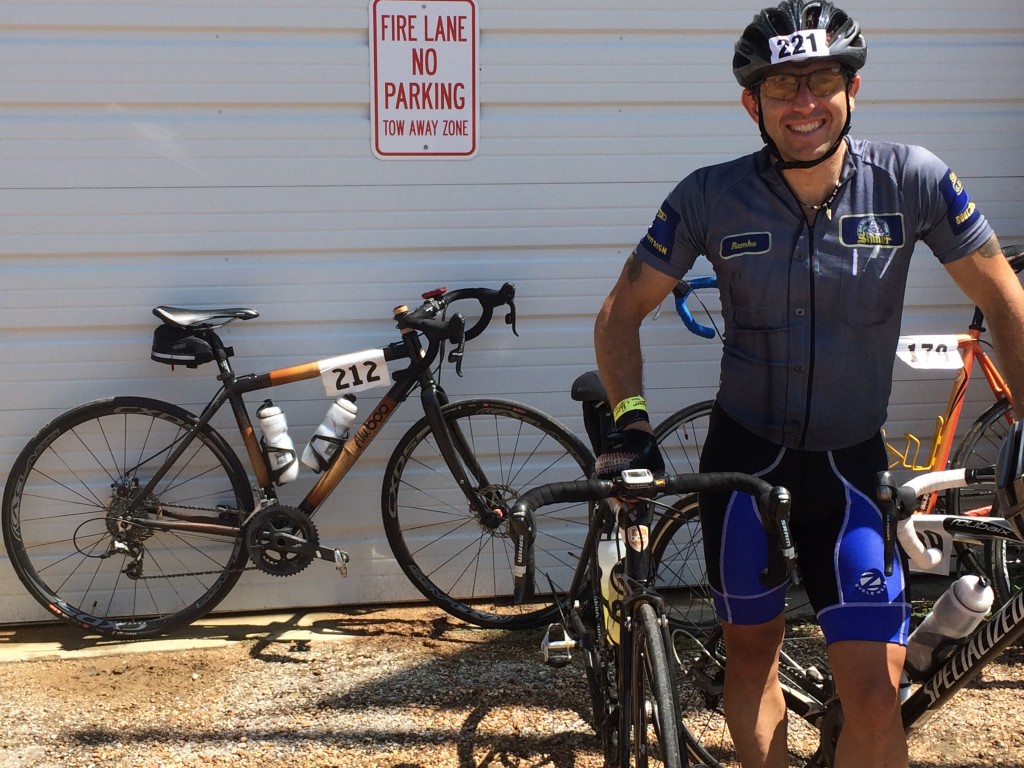 Somewhere between aid station number one and aid station number two, it began to rain.  This made pacelines almost useless unless you liked getting a nasal enema from the rooster tails being kicked up from the rider's rear tire in front of you.  This was compounded by the fact that the shoulder of the road was only about two feet wide, so when traffic got heavy you had no choice but to catch the spray.  At one point we came upon a delivery truck that was going slower than the bikes and was causing a major backup of bike riders.  My brother quickly went around on the narrow shoulder so I naturally followed along with several other riders.  No sooner than we got around the truck and safely out in front of it, two guys came around us, immediately cut over directly in front of us soaking us with their rooster tails, gapped us by thirty feet and then slowed down.
Now, I'm not saying I'm proud of my next move, but I have to admit it felt good.  I looked over at my brother, muttered something about their mothers and we both accelerated around these two buffoons with ease as the Aluboos once again showed how snappy they could be and returned the spraying favor.  We then slowed down to wait for the other two riders in our group, which allowed the moron twins the opportunity to pass us again.  This time they waited until they had gapped us by a good margin before they cut over.  Point made.
By the time we reached the halfway mark, the sky had cleared and the sun was quickly warming things up.  We took some time to check things out and realized just how hard it must have been raining to delay the race.  There were rivers of water flowing along the shoulder and parts of the road, right through the middle of town.  With all of that water and the sun beginning to beat down, we knew the rest of the ride was going to be hot and muggy (at least for a bunch of Colorado boys).  Knowing that it wasn't going to get any cooler, we hopped on our bikes and headed out for the second half of our day.
–
"Whether putting down the power on a sprint, effortlessly carving your way through a windy descent, sucking up the vibrations over rough pavement, or simply hammering out the miles as fast as your legs will take you, you can trust that your bamboo bike is more than ready to take on anything you can throw at it"
The course had to be changed from the previous year due to some road construction.  Shortly after heading back out from lunch we turned off of the main course onto some sort of farm road.  I say farm road simply for the fact that the first quarter mile or so was actually dirt.  No one told me I should have brought a Cross bike.  I was surprised at how easy the Aluboo soaked up the washboard bumps and allowed me to keep my speed up through this section.  No sooner had the dirt section ended, than we began the next 15 mile section of chip-sealed road with no stripes, no intersections, and no wind.  As the temperature rose, the suffering began and the mind started to wander.  We were in the middle of nowhere, and the only thing that kept me going was the sound of dueling banjos I could have sworn I heard in the distance behind me.
By the time we reached the next station at mile 65 we had averaged an 18.5 mph pace.  We were thankful to be able to fill up our water bottles again, answer some questions about the bikes, and take a quick break in the shade.  With the promise of smoother roads and 15 miles of downhill in front of us, we saddled up and settled into a leisurely pace.  We were all feeling pretty good, when my brother shouted out that a rider a few hundred yards in front of us had just gone down in the middle of the road.  According to my brother, it looked as if he had passed out on his bike.  He sped off to check on the rider and a car coming from the opposite direction stopped and called 911.
When my brother first got there, the man was not breathing.  After a few moments which seemed like an eternity, the man took in some air and began a labored breathing.  His eyes were rolled back and fluttering but at least he was alive. It was at that point that I noticed he was wearing a Road ID bracelet.  We started talking to "Jim" and tried to get a response out of him.  Several other riders had stopped and were trying to give advice when one of the riders announced he was a fireman and had some EMT training.  He quickly took charge, making sure that we had called 911 and, along with one of his co-riders, started taking care of the man.
Since there was nothing more we could do, we headed on towards the next stop and within a few minutes an ambulance came streaking by us from the opposite direction which provided a sigh of relief.  While my brother and I both wear Road ID's, this incident firmly reinforced my conviction to make sure everyone has some sort of ID on them when they ride.
Having done this ride the year before, I knew that the biggest hills were yet to come so I made sure to take in a few extra calories and liquid before heading to the last station which was only 8 miles away.  The legs felt surprisingly good and the hills that seemed so cruel the previous year didn't put up much of a fight.  I found myself spinning up the hills at a pretty good clip, and occasionally getting up out of the saddle to get around riders as quickly as I could due to the small shoulder and heavy traffic.
As I pulled into the last station, it dawned upon me that I didn't have any hot spots on the bum, and my hands, legs and feet felt great.  My bike had been a pleasure to ride and the guys at Boo had done a masterful job of fitting my bike to me.  I filled up the water bottles one last time and headed for the brewery, which held the promise of delicious beer, Texas BBQ, a nice shower, and some live music.
Within a couple miles of leaving the last station, one of our group felt the dreaded bonk coming on and asked us to stop while he inhaled some calories and fluid.  After a five minute break I went to clip in and heard a distinctive hiss.  The front tire was flat within seconds.  I may have failed to mention that there is not a single tree or structure to provide shade for the last 10 miles of the ride.  So sitting exposed in 90 degree heat to change a tube was not on my top 10 list of things to do at that point.  Fortunately I had a spare tube and some CO2 cartridges I had bought prior to the ride, so within a few minutes I had the new tube and tire ready for inflation.
Lesson Two: make sure you know how to operate any and all items in your pack prior to having to use them on a ride.  I had never used cartridges before so I assumed you simply screwed them on and there was a regulator of some sort on the nozzle end.  After staring at the cartridge nozzle for a minute, I surmised that the cartridge was defective and began to unscrew it.  It was at this point that I received a very cold, powerful blast to the face.  Aha, I now knew how to regulate pressure.  I also knew how to cool myself off in a pinch as well.  While I can't be certain, I'm pretty sure my group was well aware of how to work the CO2 device but needed some entertainment at the end of a long day at my expense.  A few more minutes and profanities went by and we were on our way.
With five miles to go, between my GPS and my knowledge of last year's course, I was pretty sure the ride was going to come up a couple miles short of 100.  Sure enough, when I reached the entrance to the brewery my Garmin said 97.2 miles.  Not wanting to feel cheated, we turned around and rode back out to the edge of town to take our pictures by the Welcome to Shiner sign before returning to the brewery.  When we pulled in we were at 100.5 miles, and I had completed my second century in 5:45 of riding time, well under my goal of 6:30, and way, way under my time of 8:15 the previous year.  After showering off the salt and grime it was time to have some fun.  We ran into several people who had asked about the bikes and had a few beers with them while we listened to live music under the shade of the trees outside the brewery.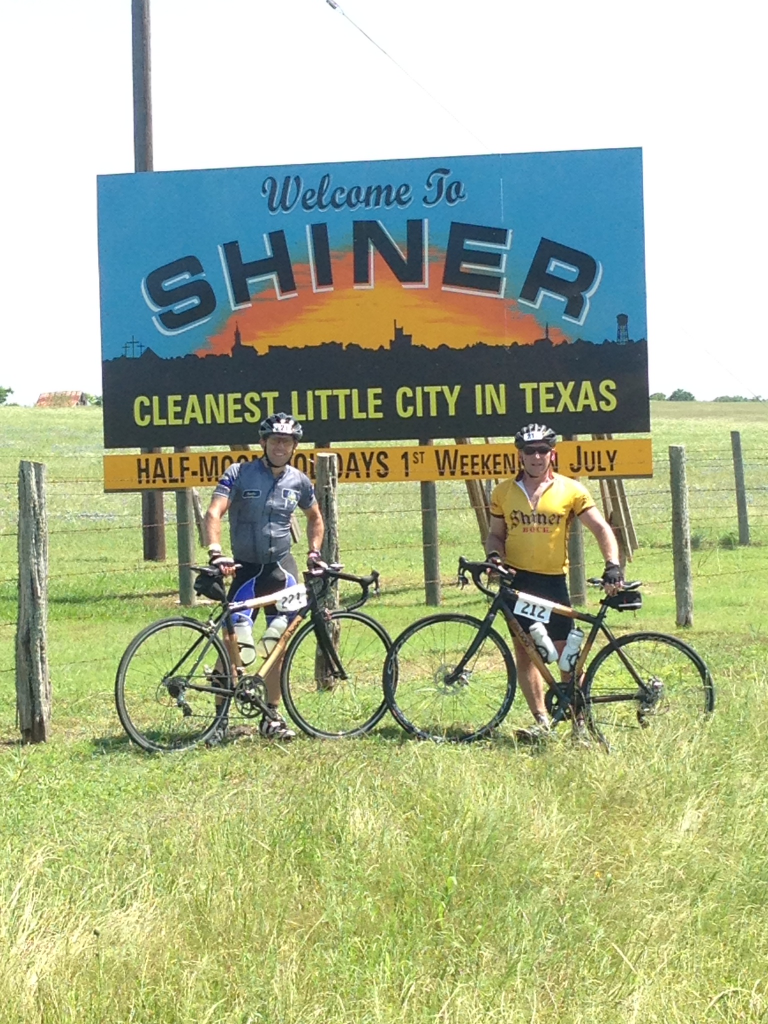 If you've never ridden the Shiner GASP and want to try a century ride, add this one to your list.  The folks at Spoetzl Brewery, the ride sponsors, and the countless volunteers make this one of the best supported rides you will ever find.  Throw in some great food and a little Texas hospitality, and you may not want to go home when last call comes around.
Likewise, if you've never ridden a bamboo bike, add the Aluboo or Boo to your list.  The guys over at Boo are friendly, knowledgeable, accommodating and always up for letting you try a demo bike.  Depending on the time of day, you might be able to go on a ride with some of the staff, as they are always looking for an excuse to go riding.  Trust me, once you've ridden one of their bikes, you'll understand.  As I mentioned to a rider who pulled up alongside me during the ride and asked, "What do you like best about it?"  I immediately replied with a wry smile, "It is an incredibly well-rounded, versatile ride, it does everything exceptionally well."  Whether putting down the power on a sprint, effortlessly carving your way through a windy descent, sucking up the vibrations over rough pavement, or simply hammering out the miles as fast as your legs will take you, you can trust that your bamboo bike is more than ready to take on anything you can throw at it.
*Special thanks go to my brother Clint and my riding partners Dave, Brad, and Tony, without whom I would not have a compelling reason to go ride.