Words by Conrad Tapia
Edited by Drew Haugen
The Leadville Trail 100 MTB–every mountain biker's dream, right?
2016 would be the year to scratch Leadville off my bucket list, assuming I could get into this race that always sells out…
So after a discussion with my fiancé and taking a night to sleep on it, I entered the Leadville 100 lottery with some friends.  We entered as a group to improve our odds, since everyone in the group gets a race entry even if only one member is pulled.
After entering the lottery I called my friend Richard LaChina, a professional mountain biker, USAC-certified coach and, best of all, a Leadville Trail 100 MTB finisher.  Richard was my best bet at getting some preparation for this event.
"Hey 'Rad! How are you?!" He asked. "I'm doing well buddy, and I hope all is well for you. Oh, and I entered the lottery for Leadville."  After a good discussion (and a very positive outlook from Richard) I went home to make sure finances would line up so we could get a coaching plan initiated.
Once I got everything rolling, the reality started to set in. "Okay, what are we doing here?" I thought to myself that night. 100 miles on dirt…
In comparison to my past racing experiences, LT100 is a completely different monster. I've raced on the velodrome in southern California for about 9 years and mixed in road and criterium all over southern California, Arizona, and Colorado, as well as the occasional cyclocross race.  
But the mountain bike bug bit me hard after moving to Colorado two years ago.  I started hanging out with the guys at Boo, who let me take out a demo mountain bike and which immediately set the hook.  I built my own Boo and added LT100 to the bucket list.  
All-in for Leadville.
The Prep
I am lucky to have a great support network: a fiancé who understands my need for challenges, a great bike from Boo Bicycles (Boo RS-M–build below), a dedicated coach, and excellent service staff at Lee's Cyclery.  I have all the tools for success–everything else depends on me.
As in times past when preparing for big events, I've found it's important to have your nutrition dialed for anticipated race day conditions. This includes answering questions like "water bottles or camelback?" and "how much will I actually burn per hour and need to consume?"
Taking the time to develop guidelines for nutrition and hydration is a big step in the right direction. This can be as simple as a mental commitment to consume a gel every 30 minutes and a bottle of water every hour, and then tweaking it as needed for race day conditions.
Getting good sleep is another factor I've found to be very important to my training.  Prior to some previous events I have overtrained and underslept which can really be detrimental, not only for performance on race day but also for "building" during training. Making sure you rest as hard as you train is very crucial, and I aim to get a minimum of 7 hours of sleep before and after a training day.
As far as skill development, I try to maintain a balance between training on challenging terrain and avoiding unnecessary risk.  I have learned the hard way and spent many weeks of my race season on the sidelines cheering on friends instead of racing due to risks taken during training or fun days that resulted in injury.
I stick to the mantra of "if you have to ask 'is it worth it?' It's probably not." Just train hard, rest well, form a nutrition plan, and fuel your motor with performance in mind.  And don't forget the occasional treat!
I can't lie and say I don't sometimes blow off a training ride or reschedule things a bit (I'm human).  But I try to train as hard as possible, as strictly as possible, and have a well-balanced life.
And between my full-time job, spending time with my fiancé, and training, it's definitely a balancing act.  When I'm too worn out, I listen to my body and sleep a little extra, eat a little more, and maybe even shuffle my training and rest days a bit.  It helps to have a handle on what your body feels like under different circumstances, stress levels, and workloads.  It's a sensitivity that comes with training, failure, and time.
This all begs the question–with all of this training and preparation, what would I do now that I wasn't drawn for the lottery?
––
The goals shifted a bit.  Since I didn't get into Leadville via the lottery, the new "A race" would have to be a Leadville-qualifier: Silver Rush 50.
The Silver Rush course is 50 miles around Leadville on challenging terrain, has a mass start "run-up", and over 7,500 feet of elevation gain.  Also, there is no information out there on where you have to place in the field in order to qualify for Leadville, or at least those who are in the know don't seem to be spilling the beans.
So my goal was to just get out there, as mentally and physically prepared as possible, pace it as hard as I could, and see if I made the cut. Easy enough, right?

Silver Rush
The Silver Rush 50 was, to say the least, one of the most challenging races I have ever done.
This race was over very rough terrain that I probably took for granted when looking at race profiles, routes, and reading descriptions and testimonials from past racers.
Before we get into the race itself, I will say that I had a number of setbacks leading up to this race including replacing a helmet, replacing shoes and even running a completely different front wheel and tire combo than what I had anticipated and tested.
I would have to make the most of the situation and rely on my training, nutrition plan, and perseverance.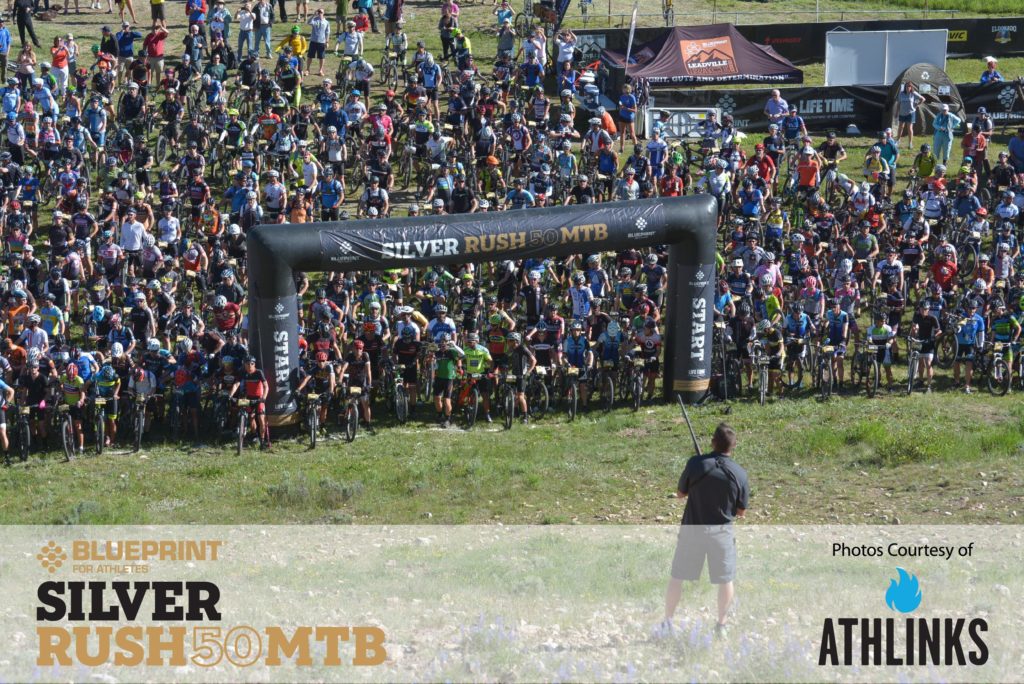 We got up early enough to mosey into Leadville and swing by registration and get everything sorted. We also lined up our bikes as close to the front of the mass start as possible.
After a few minutes to relax and trying to calm the nerves by joking around and having a good time, we hit the start line and let the anticipation build.
"Ten seconds to go." Everyone gets into their ready positions, some with their bikes shouldered.
Then… BOOM! The thunder of the double-barreled shotgun announces the start of the race and snaps the tension.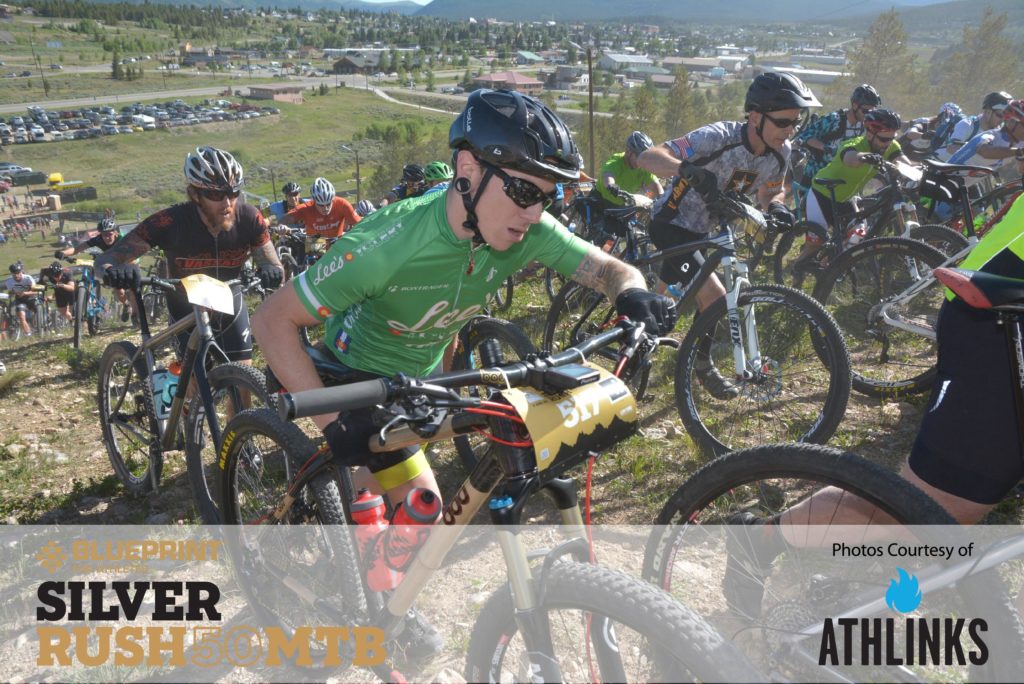 Everyone sprints up the steep 80-yard run-up to the next inflatable gate.  The first man and woman to the top both receive Leadville 100 coins (entries), so everyone is really going for it. It took me about 2 minutes to get up the run-up with so much traffic already ahead and the loose rocks, but single track was not far away.
Once on our bikes, it took a while to wiggle through racers and make it to a point where there was much less traffic to contend with.  We'd already passed one rest stop by the time I made it to the group of folks I would ride with the rest of the day.  Traffic was really thinning out by this point as everyone settled into their all-day pace.  On the way out there were a few sections that were hike-a-bike no matter what, as it was loose rock at too steep a grade.  Other sections were too congested to ride.
Coming up to the halfway point I hear a motorcycle and notice the lead moto coming straight for me.  He yells "TWO BACK!" and we knew the leaders were coming. I don't think any of us expected the speed these two were putting down, as they went flying by like cannonballs on this loose rock section.  They were definitely the topic of discussion for the next couple miles.
Coming up to the turnaround there were a couple bigger climbs and some very tricky, steep and rocky sections. Luckily, I was with a group that was not about to get off and walk these parts so the descent was fun and challenging.
Shortly after the turnaround I refueled on hydration, hit the bathroom, and had some food.  I then started toward the descent we had just ripped down, knowing it would be a tough climb out.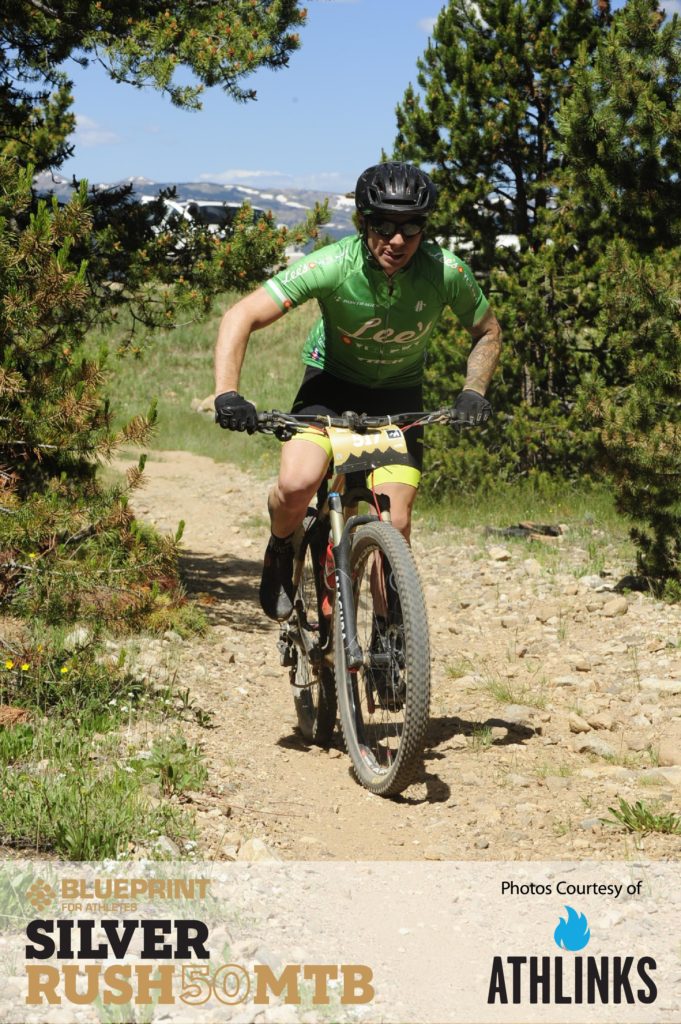 The amount of hike-a-bike at this point definitely took it's toll. It was a LONG way to hike and there wasn't really an option to re-mount and ride, due to traffic and a simple lack of traction on such steep and loose terrain.
After hiking for quite some time things thinned out again.  I rode every possible opportunity and finally made it to the top, or so I thought. There were several more short downhills accompanied by more climbing on and off the bike, the longest of which was a 10-mile climb back out from Printer Boy toward the turn that would take me to the homestretch.
During this 10-mile climb I was fighting off cramps and took some Endurolytes (which I should've had the whole time) from a racer I was riding with.  I also mentally committed to finish my water bottle at every aid station, fill up again, and keep rolling.  I dealt with my cramping situation as best as I could by balancing a steady pace with just enough effort to make decent time and not cause the legs to cramp up again.
Finally getting back to sections that I remembered from earlier in the day that were tough climbs up loose rock.  It was a lot of fun going down these but also a little bit sketchy, as I think I could have done with a little more grip in the front. The choice to use a dropper post quite literally saved my butt.
After getting past a bunch of loose rock, ups and downs, twists and turns, and some water crossings, I was finally getting close to the finish.
I was so close, I started thinking "okay what have I got left in the tank and where will I spend it?"
I made a pretty big mistake when I hit the paved section out of the wooded area that I knew was close to the start, as I dumped almost all of what was left on the pavement by hitting the gas and making a few passes here. Real big mistake.
I thought they had rerouted the course to bypass the starting run-up with this paved section, but I found out all too soon that we were redirected back into the wooded area next to the paved path and essentially zig-zagged for almost a half-mile before going into some hardpack. This eventually routed us around, up, and over the initial run-up section and finally back toward the finishers' arch.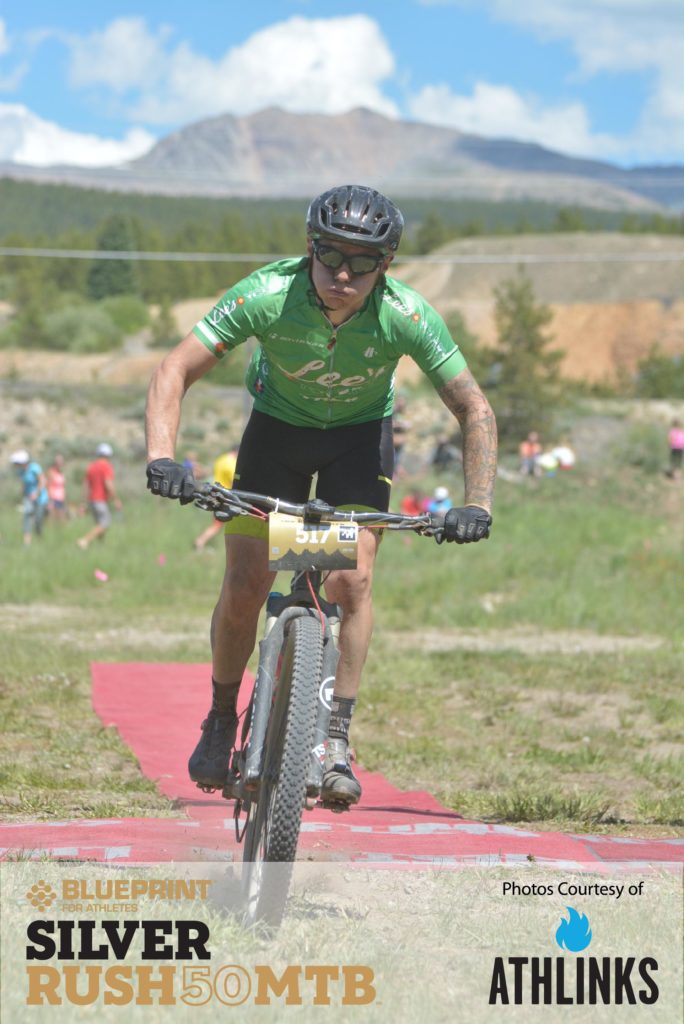 I cannot express how happy I was to see that arch. With the new shoes killing my right knee, cramps being fought, and less traction up front than I would have liked, I finally made it quite literally out of the woods.
When I crossed the line it was very nice to hear friends cheering and having my fiancé Jess there to support me. The Silver Rush 50 is a race I will never forget and one I can say that I'm not sure when I'll do it again.  Maybe I'll go back and try to beat my time though.
As far as the bike goes, my Boo RS-M exceeded expectations.  It did everything I needed during this race and more.  I had all of the control and compliance when and where I needed them.  It cornered on loose surfaces, handled nicely, and climbed efficiently.  Overall a very well-rounded machine, and perfect for the application.
For those of you looking for a true test of self, go out and race the Silver Rush 50.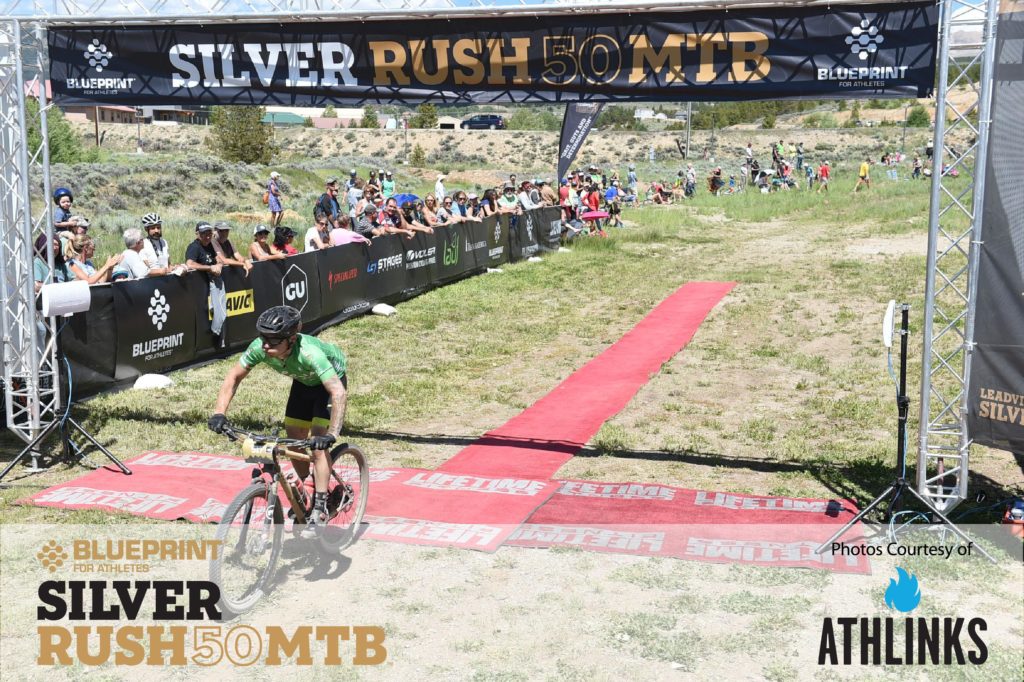 Official finishing time: 06:08:21.
This time put me a handful of spots out of the Leadville 100 coins, but today I had luck on my side as my number was drawn to receive one of the coveted coins for Leadville Trail 100! Even though my time wasn't in my personal goal window of 5 – 5 ½ hours, I did the best I could with the hand I was dealt and my preparation and training, and I am very happy with my result.
Thank you for reading! I appreciate the support and I am lucky to have such a great support team not only from Jess but from Boo Bicycles, Lee's Cyclery, Richard LaChina and all of the friends who have helped me make my dreams a reality.
Until Leadville…
Boo RS-M build:
Shimano Deore XT brakes
Shimano Deore XT shifter ( 11sp)
Shimano Deore XT rear derailleur
Shimano Deore XT crank
Wolftooth Components 32t asymmetric chainring
Shimano Deore XT 11-42 cassette
Shimano Deore XT pedals
Shimano Deore XT 180mm/160mm rotors
Carbon BOO bar (760mm)
Stans Crest rims with XT hubs (27.5/650b)
Maxxis Ardent Race tires
Magura TS8 Fork (100mm)
The following parts are additional to standard BOO builds:
Caffelatex Sealant
Wippermann 11sb Chain
Specialized Command Post (dropper)
Specialized Phenom comp saddle with Bandit attachment