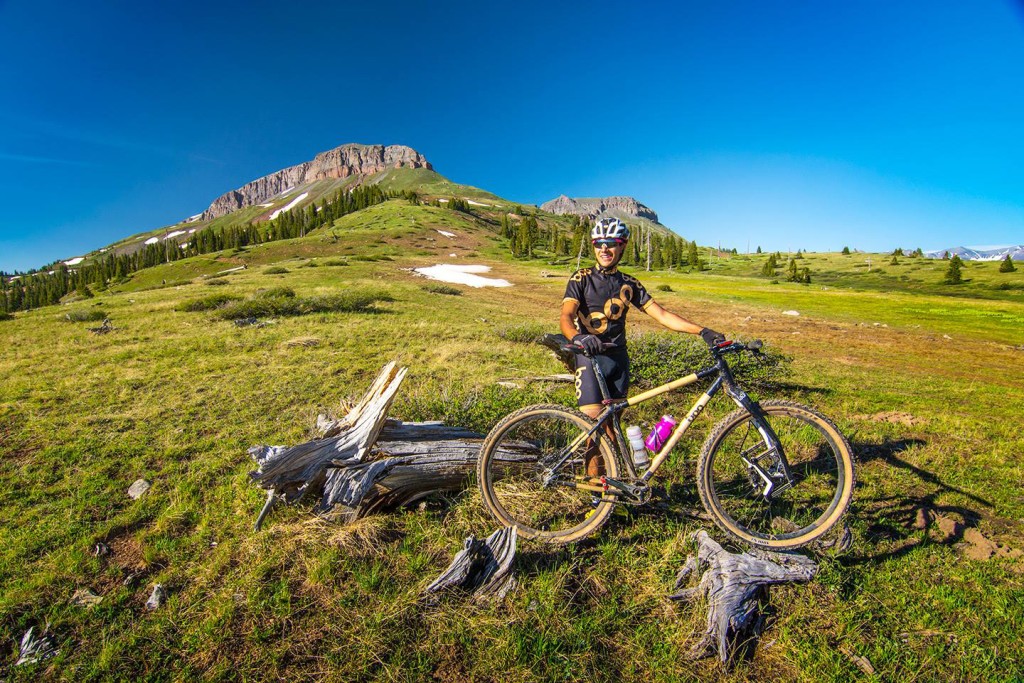 When did you start riding bikes?
I started riding back in 2010.  As an overweight teenager, I knew I needed to change my lifestyle for the better. It all started when a buddy of mine invited me out for a mountain bike ride.  I reluctantly agreed, and after the 6-mile ride I felt like I was going to pass out.
Even though that first ride was tough I was hooked on riding. I knew I had to slim down, and cycling was the perfect outlet for it. I started out riding at 226lbs.  I went on the indoor trainer at least 30 minutes a day and made a routine in which I could keep active. By cycling and watching my diet, I dropped 90lbs in the 8 months since I started riding.
After I lost my weight I began riding more and more with different people and groups, and my addiction grew even more. Before I knew it I was signed up for my first mountain bike race, and after that I was hooked on racing. 5 years later and plenty of national and local races later, I still have the same passion for cycling that I had starting out.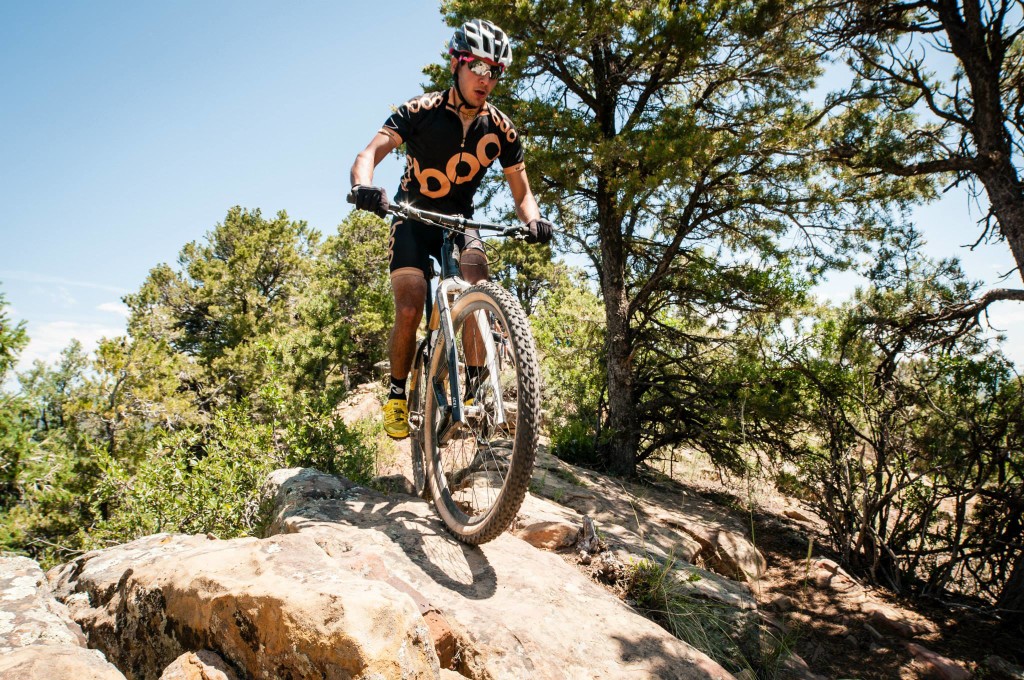 Where do you live? What's your occupation?
Currently live in Silver Spring, Maryland but spend most my time in Baltimore. I'm currently a full-time student at UMBC and a part-time employee at a local bike shop.
Who do you race for?
Currently racing for a local group called Sportif Coaching Group, which is the team that our shop sponsors. I also have an assortment of groups that support my racing which includes Boo Bicycles, Lauf forks, and Skratch Labs.
Favorite type of terrain?
Anything that involves climbing, whether mountain or road, is where you'll see me smiling. Also love super technical trails and anything that can be sessioned and is a 50/50 chance of making it through clean.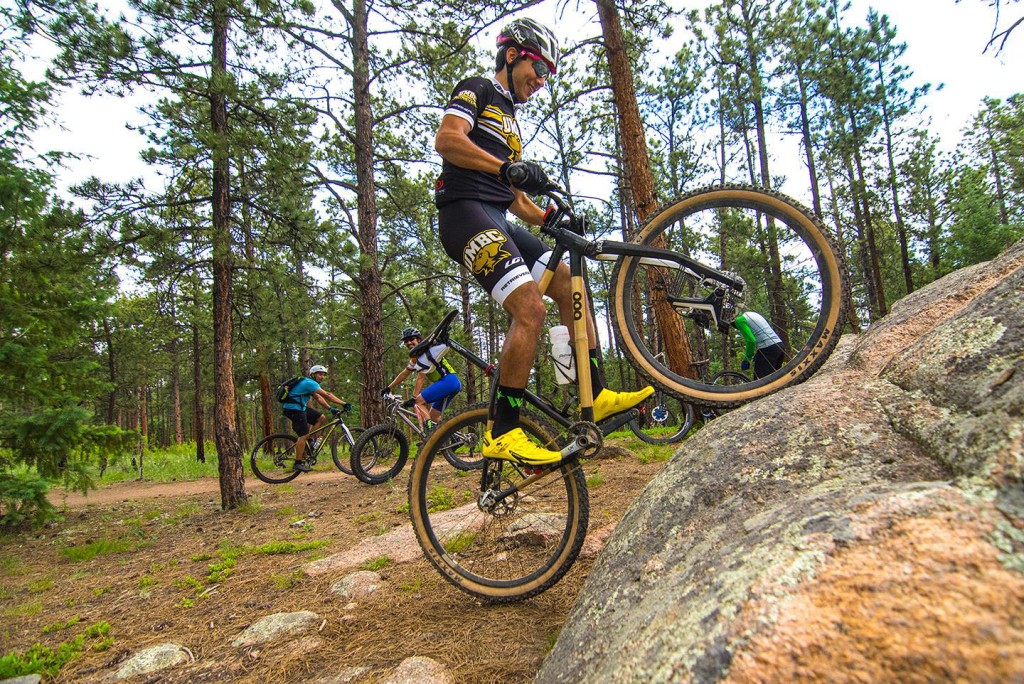 Favorite ride?  
Would have to be anything in the Patapsco Valley State Park. The park offers some of the best riding in the area, with a great amount of variety, and has over 70 miles of awesome trails that can even be linked together to make a huge epic loop.
Favorite race?
Favorite race would have to be 2013 MTB Nationals in Bear Creek, PA. It was an awesome experience to see some of the best riders in the country all come to the East Coast and battle it out. It was also cool to line up with the best riders in your age group and be proud that you are one of them.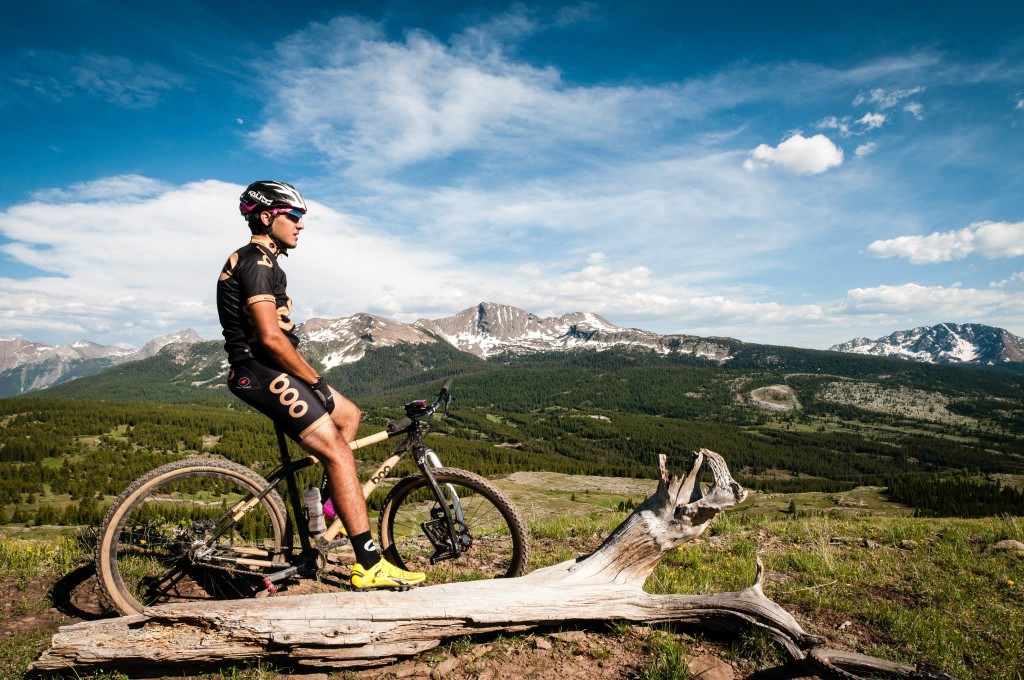 You've been on some rad trips recently–tell us about your adventures
Just got back from Colorado, what an amazing trip! The trails coupled with the breathtaking (literally breath-taking at 11,000 feet) views really is something that all cyclists should experience.
We went riding in Salida, Boulder, Breckenridge, Durango and Molas Pass.  All of these trails have something unique about them and all of them are must-rides. One of the best trails we did was the Rainbow Trail in Salida–miles and miles of beautiful singletrack along with amazing views of mountain tops and valleys, this ride will definitely be one of my best memories riding.
In January some friends and I made a trip out to Arizona to escape the East Coast cold. We rode in Sedona, Phoenix and Tucson. Sedona was awesome! The trails are definitely some of the best I've been on. Had enough technical stuff to keep you on your toes but also allowed for a great amount of flow.  Also the red rock terrain is like riding in a skate park–super grippy!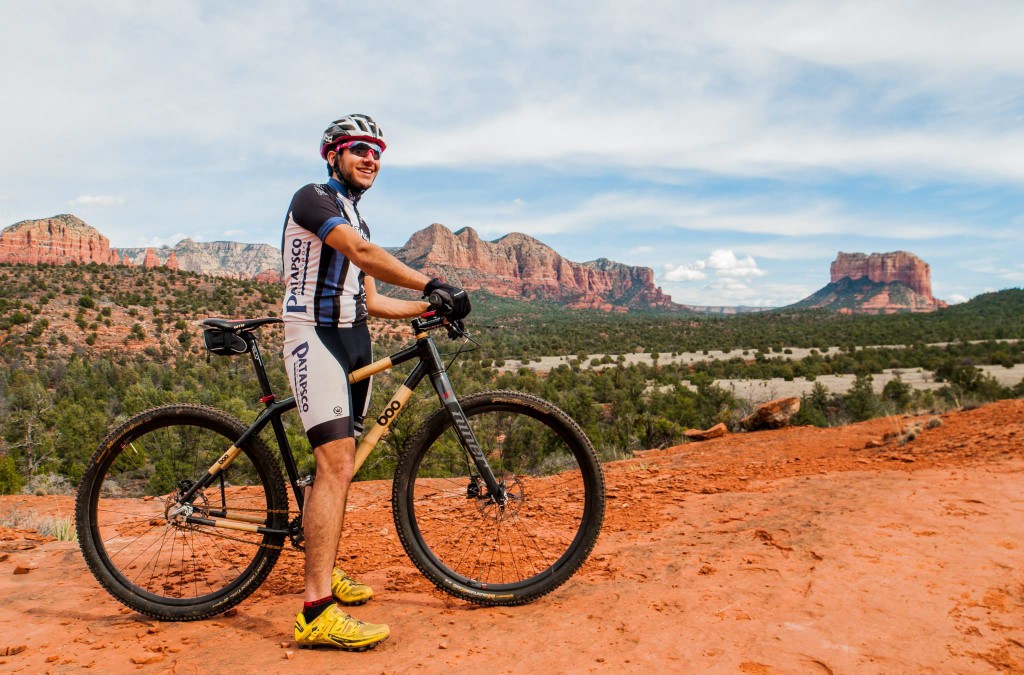 Tell us about the bikes in your quiver.
Probably have too many but here goes. My go to mountain bike is my Boo RS-M 29er single speed, which is also my race bike. I LOVE THIS BIKE! This is by far the most comfortable bike I have ever ridden. The bamboo really gets rid of all those small vibrations that seem to wear down riders after some time on the saddle. The bike also has its very unique and beautiful look of the hand wrapped carbon and the natural bamboo.
My road bike is a Salsa Colossal TI–love it as an all-road bike and has pulled through on some crazy long rides. As a backup SS mtb I have an OS Blackbuck with a custom truss fork. I also have a specialized Fatboy for when the snow finally hits in winter. Finally I have a Custom Ed Litton touring bike, beautiful and simple design yet super practical and can be used for everything.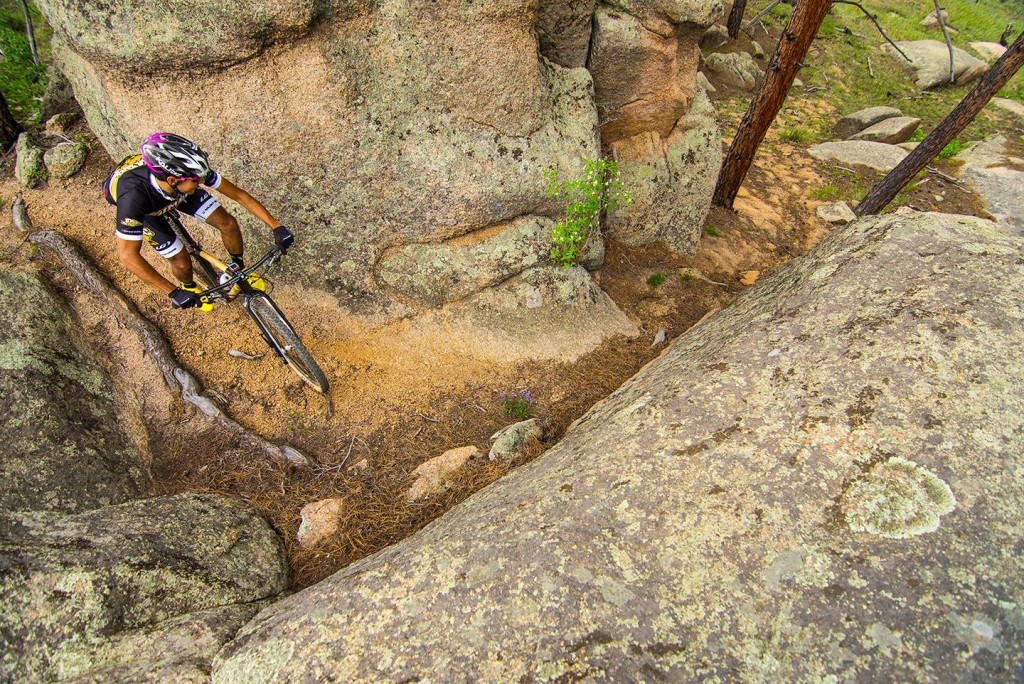 What do you like about your Boo?
I love my Boo RSM 29er. My past experiences with carbon hardtails has usually been pretty mediocre and boring. The Boo is in a league of its own when it comes to comfort, durability, speed and looks. The bamboo definitely removes small vibrations and allows a rider to stay fresh for longer periods of time.
One of the big things I noticed first about the Boo was how well the bike rode over roots and rocks. The bike felt very connected to the ground and was able to keep my lines through fast technical sections of trail–it almost reminded me of traction control on AWD cars. With the Boo I don't have to worry about losing traction in the rear wheel, especially when climbing out of the saddle (which most of the time SS riders are doing). This is very important to me because I spend a large portion of time out of the saddle when climbing most grades, and I needed a bike that would keep the rubber side down. Even when out of the saddle and all my weight forward the rear end keeps its place on the ground.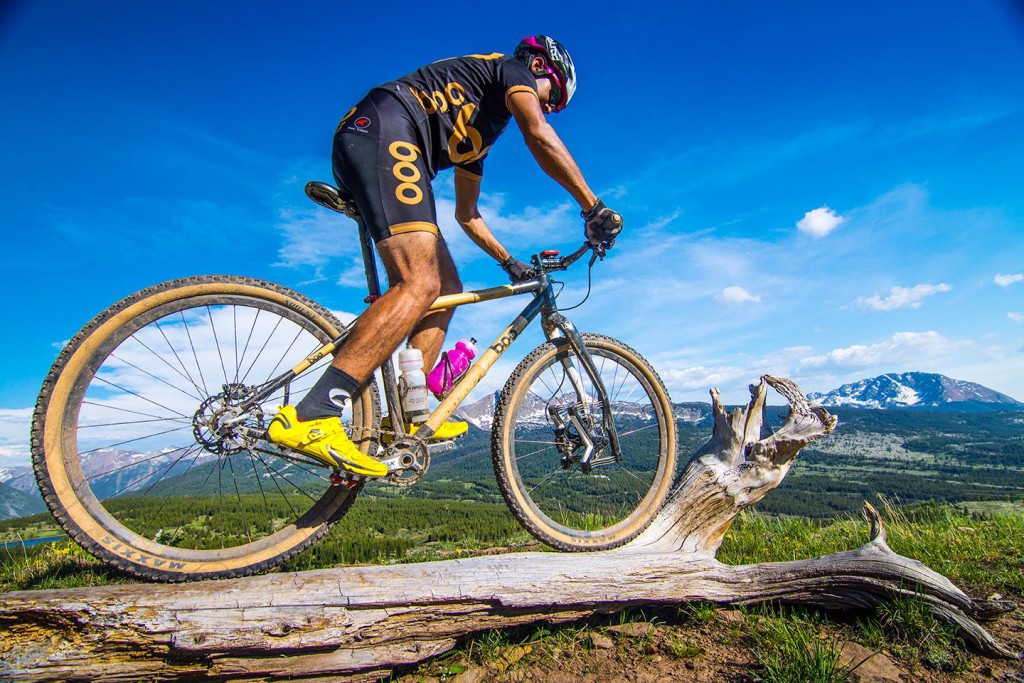 I have ridden the popular frame materials, such as carbon, titanium, steel and aluminum. Bamboo is by far the best material in terms of absorption of small trail and road vibrations. Any vibrations coming from the rear end of the bike seemingly vanish. This is good especially when riding a rigid bike. The less trail vibrations that you feel through your hands and back, the better, longer, and faster you will be able to ride. For the fork of the bike, I suggest a Niner carbon fork.  This fork does an awesome job at giving a certain amount of forgiveness, even for a rigid fork. It is also super light!
The Boo is also the lightest SS I have ever built up. The lightest setup I have had is 17.5 lbs with pedals. Even with the bike being lightweight, the frame has gone through some of the rockiest trails the East Coast has to offer! If this was a full carbon frame I probably would have been through a couple of them by now.
So to sum of the benefits of the Boo, its a light, durable, super-versatile trail-ripping machine. The bamboo helps rigid riders endure more harsh hours of riding compared to other materials such as carbon and steel. The ability of the bike to stay put on the ground during climbs and descents saves a large amount of energy and the rider will feel more confident on technical terrain. Easily the best mountain bike I've ever ridden!
What would you tell someone who's never ridden a Boo?
Pretty much what I mentioned above–there are just so many reasons why a Boo is the best decision possible when choosing a bike. If comfort, speed, looks, and durability are all important factors for you when choosing a bike, the Boo is definitely the way to go!
Favorite activity not involving bikes?
Favorite activity outside of riding would have to be eating food. If I am not riding I am most likely eating something, whether it is a small snack or a five course meal. I love trying different foods, especially ones from different cultures and countries. I guess there is some small part of my former self that stuck around, but at least now I can offset all that eating with even more riding!