Misery. Perspective. One sometimes brings about the other. I often find myself seeking out miserable situations, typically outdoors, in order to find perspective, as these situations have a unique way of sorting out the things that really matter in life. Too often, in a world full of comforts and conveniences, we find ourselves in these microcosms, living overly complicated lives, worrying about things that don't really matter at all.
These experiences can be big or small. Completely pivotal or benign. One cannot predict exact outcomes of miserable experiences, one can only adapt as they dive deeper into them. One thing is for sure though, they always force a sort of perspective on me that allows me to get outside myself and see the privileges I have, the real challenges that I face, and the clarity to overcome these challenges. And while misery is not a necessary nor sufficient condition for gaining perspective on life, it certainly is a useful tool. One such experience I recently had was completing the entire Leadville Trail MTB 100 on a cyclocross bike.
The night before the race was spent strolling the town of Leadville with my girlfriend. We ran in to some friends at the local pizza joint and ended up sharing a meal with them out on the patio. Later, we walked under the Rocky Mountain dusk and climbed around on some old mine tailings just outside of town with Boo GM Adam Blake. As night fell, just before crawling into my sleeping bag at the back of the Boo Bus, I stared up at the stars, and, as I often do, took great comfort in how relatively insignificant the human race is within this unfathomably large and old universe. I felt ready for what the next day had in store.
I started out toward St. Kevins in the cold of morning's first light. I was enjoying the small descent out of town. The cold left my hands beyond numb when I hit the first dirt, and I was not looking forward to the feeling coming back, as this is usually initially associated with a lot of pain.
The bottom of St Kevins came, and I still had plenty of time before the race actually started, so I decided I'd just push through the hand pain at my own pace, and find a nice place at the top to wait for the racers.
I pulled over about 100 meters below the hairpin at the top of the climb. The Sun was hitting me now. I was soaking it in. In the distance, I heard a dirt bike, which could only mean one thing—the race was coming.
The dirt bike screamed past, clearing the road from the slight morning fog, and alerting the otherwise silent forest to the incoming river of cyclists. Shortly after came the pro field. Breathing like plow laden oxen, breathe visible in the Sun's rays. I cheered, they were too full throttle to take notice.
I saw Nick Frey barrel past. I yelled his place; it was something like 35th at that point—a very solid start, considering the company he was in.
There was a gap. Then the usual hordes and the St Kevins bottle neck began. I cheered for everyone. I shouted for the first tandem I saw pass. Approximately 600 riders passed and the crowd started to die down. I figured this was my time.
I was on a bank above the road. Holding the nearest pine, I fully clipped in to my RSX. I gauged the pace and small gaps of the riders passing by and merged. I was barely noticed. St Kevins was the thing people were noticing.
I just went with the flow. There was plenty of race laid out before me; I had no real reason to push it at this point.
The riding was pleasant. My hands had warmed back up 25 minutes prior, and I had nothing to do but pedal the pace and soak in the scenery. The comments started at this point. "Are you planning to do the whole race on a 'cross bike?" To which I'd reply: "We'll see" or "Time will tell".
At that point, it was too early in the game. Who knew what mechanicals, or how many flats lay ahead. This was an experiment in both equipment and mental fortitude; and with any experiment, one can hypothesize, but one cannot place certainty on any particular result.
Upon reaching the pavement around Turquoise Lake, I took the descent slowly. Riding no hands, I took the opportunity to feed, as breakfast was over 3 hours ago, and I knew I would start pushing a pretty good pace soon. I took the hairpin at the farthest West point of the lake, rode softly for a little ways while taking off my jacket and stuffing it in my jersey pocket. It seemed I was within the tail end of the riders. One man, apparently at full throttle just to hang on, questioned out loud just what the hell he was getting himself into. I told him to just go his own pace. "Slow and steady. Race against yourself not the crowd. You'll probably see most the folks speeding past you crack in a few hours anyway."
As for me, I started the ascent, still on pavement, toward the top of Power Line. This is where I dug in. I ride completely by feel, and I was riding at a power that I felt was sustainable for a few hours.
I had pumped my Challenge Grifos up to 60 PSI before the day's start. I did this to help ensure against pinch flats. I also filled my tubes with Orange Seal to prevent punctures. The two tubes and three CO2s in my jersey pocket ware there to hedge against Murphy's Law. The tire choice and pressure was also proving very advantageous on the pavement and hard packed dirt roads. I was blowing past crowds of mountain bikes. Though I knew it would be a tug-of-war. I was thinking of the Power Line descent, just a few miles ahead, with both nervous anticipation and curiosity.
At that point, I had no complaints. The sun was out, I was in short sleeves, and I was pedaling a bitchin' machine in the Colorado Rockies. In high spirits, I just did my thing, picking people off and passing when it felt right. The Power Line descent was looming over the ridge in front of me.
Things flattened out. I soaked in my surroundings for just a few seconds as I pedaled toward the steep, double fall line, eroded fire road that was Power Line. The day before I descended St Kevins, on a trial run, and the bike performed with the prowess of a wild cat. Railing through the corners, and even catching air off of some rollers intended for erosion control. Power Line, however, was a totally different story. Much rougher in spots, with softball sized talus on some stretches. A grade that made me concerned for my 160/140 mm rotor sizes. Again, I just did my thing. I'm sure a few people behind me may have been a bit irritated, but I'm sure they got over it once they realized what the mountains had in store for them.
The sketchiest part of the descent was one off-camber section of Power Line that had a huge two foot rut in the middle. I was coming in a little hot and my fully rigid 'cross bike started to be thrown off line on the large rocks. I barely saved it by putting a foot down and skidding a bit. I brought her back and I was off again with a new sense of conservatism for the rest of the white knuckling down. When I reached the creek crossing just before the pavement, I celebrated by riding through the creek as most people in front of me were going around the dry side. (A spectator took a video and posted it here.)
I was on the pavement. This was the time to really open up the RSX. I took a gel feed from my pocket, then drilled it. I was picking off all the people that had just passed me descending Power Line. I passed a large pace line of mountain bikes in my drop bars as we headed across the flats.
Just as I was settling in to the groove of passing MTBs, there was a sudden right turn off the pavement onto the two-rut road that leads to the Pipeline Aid Station. I wasn't passing anyone anymore, but I wasn't being passed either. I rounded a few bends and rolled through the aid station. I took a bottle hand up from some very generous folks who were unofficially officially supporting me. I was grateful for the feed; the temperature was climbing.
After the aid station, I kept drilling it across the smooth dirt roads that followed. The bike was performing beyond my wildest anticipation. I was dodging large potholes with precision, slicing around large mud puddles, and grinding my high gears at a pace that MTB gears simply would not allow.
A few switchbacks on the pipeline's service road eventually led to the single track. Everything was going so smoothly at this point I barely even noticed the course changes. One section of the single track outbound descent had me pulled over for a courteous MTB rider that called out before he was on my wheel.
I passed him again once single track gave way to the pavement and dirt of County Road 10. I just kept rolling. Focused. Thinking. Clarity. I felt like I was on a Saturday morning road ride.
The descent to Twin Lakes came and I dropped into the dirt ditch section at the bottom of the pavement. I heard cheers in my direction due to my choice of bicycles. I cautiously rode through the aid station, looking for a feed. I came to my friends and had to stop for a few seconds to take two bottles. Columbine was looming.
I headed out from Twin Lakes feeling good. I toned my pace down a bit. Not only was this next stretch fairly rocky in spots, but I knew I had to push my gear choice up a 12,000 foot peak very soon. I just maintained my position.
I reached a very steep section that was an outbound descent. It couldn't have been more than 60 or 70 meters long, but had some very serious erosion to contend with on a 'cross bike. I took it slow. Meanwhile, behind me, I heard an MTB raging toward me like a cat 5 rider attacking in a feed zone. He tried to go around me and subsequently yard sailed in the sage brush on rider's right. Curses, the likes of which I should not repeat on this forum, emanated from his mouth in my direction. I just smiled ahead, knowing he had brakes much larger than mine and chose not to use them. His bad. I hoped he was okay and continued on, but, due to the cursing, I chose not to stick around.
Back in my zone, I eventually reached the very sharp outbound right turn onto County Road 398. It was lined with tents. The crowd was screaming at me in support of my bicycle choice. Filled with adrenaline, I had new found strength. I was out of the saddle and putting in an effort toward Columbine. I passed the SRAM tent, I was applauded for my Red 22 group set. Stoked.
Columbine eventually came and I shifted into my 36/26 gearing and started grinding. My cadence and speed were akin to a 5 mile freight train, pulling a grade, full with coal. I don't think I touched the saddle the entire climb, eventually matching pace with the riders around me. There was some conversation at first amongst some of the folks nearby. This didn't last.
Halfway up, I had my second encounter with the dirt biker leading the race. This time, he had the focus and concentration of a formula one driver. The riders behind him, now inbound and leading the race, were traveling at greater speeds than he could safely maintain on this hard packed gravel. His only advantage—the gap he started with.
Soon the pro field barreled passed. One by one, 30 seconds to 1 minute gaps between individuals. Nick Frey eventually blurred past. He was top twenty. With his RSM, and the skill to match, he was gaining ground on the descents. I gave a deep and long "BOOOOOOOOO!"
After what seemed like 100 switchbacks, the forest started clearing to an elevation at which trees can no longer grow. The dirt gave way to rocks. I knew that it was just a matter of time before the rocks would have me walking next to my 'cross bike.
I saw a weathered face sitting on an ATV. I did not know who he was at the time, but, from the look on his face, I could tell he had also embraced some miserable experiences in those same mountains. He saw my bike and, as I dieseled past him, he yelled "boy, you may not be smart, but you sure are tough." Weeks later, watching the documentary "Race Across The Sky", I recognized this man as the race's co-founder, Kenneth Chlouber. At the time though, I was too tired and winded to speak. I just nodded and continued, feeling grateful for the mixed compliment.
The time eventually came. The grades and terrain were simply too much for me and my gearing. I started walking my bike. Everyone else was walking too, save for a few hardies. I walked my bike for the rest of the climb until it leveled out at the top. I wearily navigated the small descent toward the race turn-around with the grace of a tired drunk man stumbling home from the bar.
I reached the turn-around and again received many cheers for both the bike choice and the feat of even making it that far. Not wanting to take feed services I did not pay for, I pedaled through, stopped at the other side of the checkpoint, took a feed from my pocket, and captured the photo below as proof of making it to that point.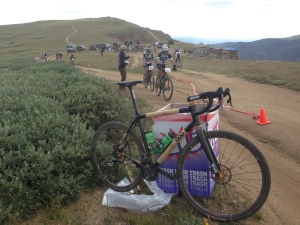 I saddled up and started riding again. My legs were numb with fatigue, and my hands were a bit cold, but nothing compared to earlier. I eventually made my way across the flats, and, white knuckling my drop bars, began the columbine descent.
Outbound traffic was walking single file at this point. Even if a few of them could have ridden this portion of the race, there were so many walkers it would have been futile. There was just enough room for inbound traffic to descend.
I heard so many yells for "cross guy", which I presumed was me. I was being rattled so hard, and I was so focused on not crashing, that I could barely blink let alone look up to see the face behind the words of encouragement.
This continued. I did not move my hands from their death grip on the drops. Other than the occasional two finger brake grabbing, all I could do was hold on to my bucking bicycle until the rocks let up to dirt at tree line.
Passing Kenneth Chlouber again, the trees finally came, and I thought I was going to have to pry my hands off the bars with someone's multi tool. I put my hands on the hoods, stood up and leaned forward into the bars for a much needed stretch of my lower back muscles. The fun part was about to start.
Getting back in the drops and shifting into my 46/11, I started powering down the descent. This is where the bike shined. I was passing dual suspension. I got into my groove again, stay vigilant for washboards, which, at those speeds, could have been the end of the race for me.
The end of the descent came and I went past the SRAM neutral support before turning off 398. There was a gleam of possibility that I might actually complete the race. I took another bottle hand-up at Twin Lakes and started climbing the pavement out of the aid station. I was really feeling the fatigue.
By this point, the race was so strung out, there was little position jockeying left to do. I just put my head down and braced for the 30 or so miles left in front of me.
The dirt road section was a blur to me. I just kept rolling, by myself, toward the single track.
I reached the single track and was caught behind a line of 10 or so riders. Towards the top, as the trail flattened out, there was a section within a small clump of trees that required some maneuvering over a bunch of exposed roots. Perhaps with fresher legs and spirit. I fell over like a lame horse, caught in my bike, exhausted. I forced myself to stand up, get back on the saddle, and start riding again.
I was getting sloppy and there was a lot of race left. Not good.
The next section of dirt road was just drudging on. That place on the saddle where the miles just melt away, somewhere between endorphin euphoria and agony. Just maintain.
I came into Pipeline not knowing what I needed for feed. The dried salt on my jersey told me I needed electrolytes, my stomach told me I needed water. My friends were out of water. I took electrolytes.
After Pipeline, the pavement was back, and with it, an afternoon headwind. I was still making better time than most of the MTBs with me, but I was not in a good place. I kept pushing. Riding by feel for what was left. I remembered the Strava station of last year, and the mini, ice-cold Cokes. I set it as a goal and pushed harder. Without stopping, I took my reward and chugged as much Coca-Cola as I could. I had to force things down at this point.
All I wanted was real food. I started dreaming of all the things I'd eat once back in Leadville.
The creek crossing and the Power Line climb came. I dieseled as long as I could and eventually put a leg down right as the steeps came out of the trees and went under the power lines. I was stoked to see all the people still out cheering.
At the top of the steeps, I got back on my bike. I rode most the rest of the climb. I came to a slightly "technical" section and came to a stop from a small rock in the road. Too tired, and without the mental capacity to even realize what was happening, I just fell over without even clipping out of my pedals. I spoke to myself, probably muttering obscenities, then got up and again set out, chugging toward the top.
The top of Power Line came and I was happy to be descending. At least at first.
The same portion of dirt road I was passing people on, the one where I had no complaints in the morning, was proving to be a hellacious experience full of softball sized cobbles. It was excruciating. My hands, already cramped with fatigue, were protesting now more than ever on this fully rigid bike and 60 PSI in the 'cross tires beneath me. It was the same feeling that swinging an axe at hard wood brings after several hours of work. You almost have to pry your fingers from their grip with a screw driver, as they've conformed to their positions and shape in the same way a dead animal stiffens with the onset of rigor mortis. The feeling of straightening my fingers, which I then realized had been flexed around a set of handle bars, non stop, for hours, is both relieving and painful at the same time.
I pulled over and put my gloves on, as my palms were starting to blister. I took a moment to look around and take stock of what exactly I was doing. If I could just make it to the smooth dirt above Turquoise Lake, probably just 1/2 a mile more, I thought, I would be home free.
I made it. I was pedaling with my hands in the hoods. Getting out of the saddle and moving over each leg, over the bars, stretching my back. No stopping. Not until Leadville.
I enjoyed the inbound descent, on the South side of Turquoise Lake, without pedaling. There was one last long climb in front of me.
I rounded Turquoise Lake and started climbing the North side. Slow and steady. Whatever place I was in was fine. I just wanted to finish. The turn back into the woods and onto dirt finally came.
The adrenaline of being almost done started to come, waxing and waning with efforts. One last short but steep section was walked before getting back to St Kevins. I took the opportunity of descent to pass another mountain biker. The descent was fast, more so out of wanting to get to food rather than being in any sort of race.
Finally reaching the pavement, I started to push hard toward town. Hitting the small trail section and still drilling it. The trail turned left and there was a small climb that looked like it was an old river bed, full of round rocks. I had to walk this stretch, and I was passed by a few mountain bikers. No worries.
Once at the top of this small climb, the roads smoothed out considerably and the grade became much more gentle all the way back up to town. For my level of fatigue, I was crushing it. Passing every single rider that had passed me while I was walking just minutes earlier. Town was coming and I was burning every last bit I had left in me.
I saw the turn off dirt onto paved road. I hit the pavement, rounded the turn, and climbed past the High School out of the saddle. When I crested the hill, I saw the finish line.
The year before, riding without a number, I turned off course blocks before the finish. This time, I went through the finish line and rode across the red carpet. I thought I had earned it. I dismounted and got out of there as quickly as possible. I did not want to draw attention to myself and my lack of registration. Leaving the course, a volunteer tried to hand me a medal. I told him "no thanks." "I don't have a number, I was just out for a weekend ride." He smiled and patted me on the shoulder. I turned around, fought my way through the crowd, and rode back to the Boo Bus.
I saw Nick, he had a great race as well. He snapped the photos below. We were both tired and happy with how things went.
I sat on the couch in the Boo Bus, totally bonked, forcing salty pretzels down and drinking aloe juice. I waited my turn to use my friends' shower. Dinner was coming. I had unofficially officially completed the Leadville MTB Trail 100 on a 'cross bike in ~9 hours and 50 minutes. The Boo RSR performed flawlessly, without mechanicals, flats, or problems of any kind. The lack of suspension added about an hour to my time from last year.
While I was still discovering new pains and feelings in my body, I felt accomplished and relaxed. Nothing but that moment in front of me mattered. Some of the most flavorful foods, thirst quenching and delicious drinks, warm and most comforting showers, all things I often find myself taking for granted, are best after experiences like these.
I can't wait until the next one…