by Joe Kleidosty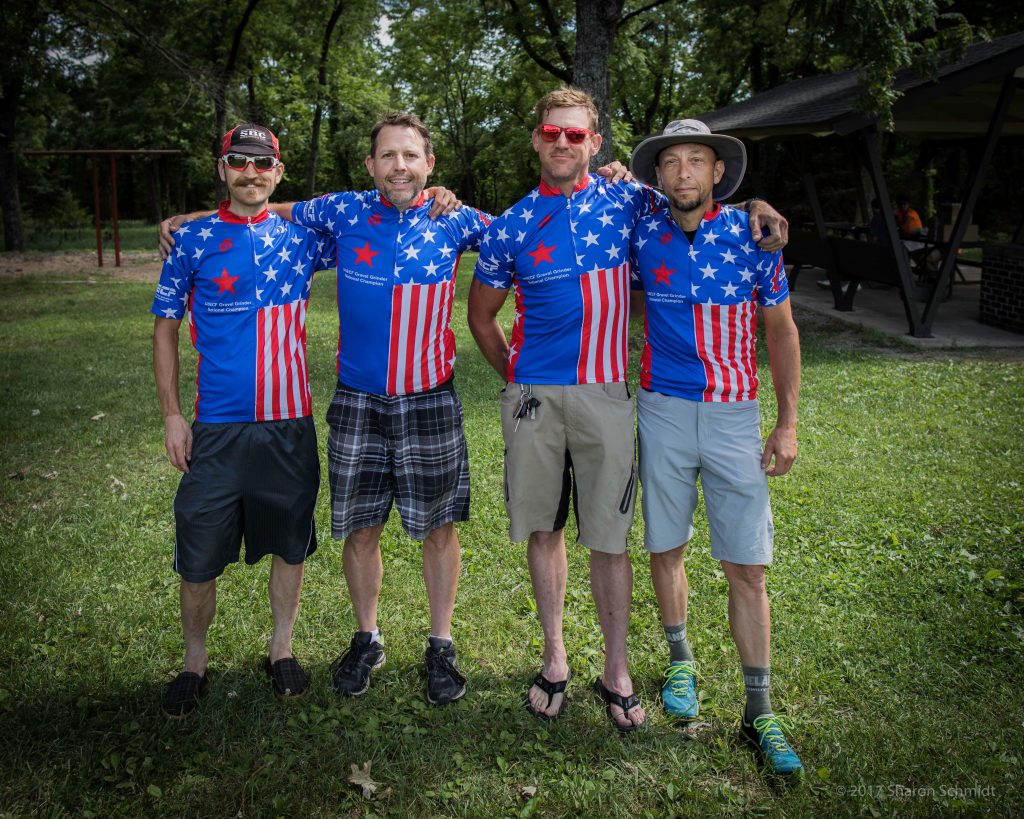 Members of the Dirty Dog Race Pack, including Boo riders Joe Kleidosty (second from left) and Greg Vaught (far right)
The United States Endurance Cycling Federation chose Lawrence, Kansas, for its first annual USECF Gravel Grinder National Championship, with scenic gravel roads that pass through Douglas, Shawnee, Franklin, and Osage counties.  The course did not disappoint, crossing sections of the original Santa Fe Trail with checkpoints at miles 40 and 75 in the same location at Lone Star Lake.
Our Dirty Dog Race Pack sent seven hungry dogs (Boo riders Don Daly, Joe Kleidosty, and Greg Vaught, as well as Paul Erickson, Barry Meitler, Jenny Clark and Marzena Tomicki) to Lawrence to grind gravel across seven different categories in the hunt to drag home seven national championship jerseys.  Without a doubt, DDRP had the biggest presence at the event, and did not fail to show that these dogs run wild on gravel.
After a 1.2-mile neutral start, Kleidosty was the first to set the pace, with the average speed of the first 10 miles being close to 20 mph.  Benn Stover attacked early in the race for a solo breakaway, but he was pulled back into the group with not much effort.
Eventually Stover, Bob Cummings, Rob Bell, DDRP's Erickson, and Hunter Adams would get away.  Erickson was shelled from the group and joined a 5-person chase group with Kleidosty, Cody Jones, Jon Harp and Kyle Pitman.  After exiting the 40-mile checkpoint, Kleidosty learned (because he asked!) Harp was 50-54 and Pitman was 40-44 (same age category as him).
The course was a little tricky, as it overlapped onto itself in a couple areas and also required an exit at a different spot after leaving the second checkpoint.  Kleidosty and Vaught had done some recon of the course near Lone Star Lake on the evening before the race to gain a better understanding, which ended up paying dividends. Kleidosty's Garmin was telling him to turn left when he knew he had to go straight after the first checkpoint – he had reset the course on his Garmin to get it to communicate properly.
Erickson rode very strong, even riding away from the 5-person chase group at one point, catching Adams.  The 4-person chase group caught Erickson and Adams in a bit of time, at which point Kleidosty discussed strategy with Erickson to get assistance with beating Pitman.  Erickson was game and took some strong pulls, often into the headwind.  Adams was not able to keep the pace and dropped off from the chase group.
Kleidosty thought he'd make his move after entering Clinton State Park on a punchy hill, but noticed Pitman was taking shorter pulls and occasionally skipped a pull, not knowing if it was because he was at his limit or because he was saving himself for a final sprint, or both!  As the chase group hit asphalt in the last 10 miles of the 112.7-mile race, Kleidosty was thinking of doing a more cheeky move (click link to see the Expert Tip at :46 seconds – Kleidosty ignored the tips on where NOT to attack at 4:23 of the video).
About 4 miles out, Kleidosty moved up a spot in the group to get in better position after doing his pull.  Harp initially elbowed Kleidosty away, as he attempted to move up a spot.  Kleidosty quickly explained the showdown that was about to happen, and Harp let him in.  At 3.5 miles out Pitman was on front, followed by Erickson, Kleidosty, Harp, and Jones.
As Pitman finished his pull into a 10 mph headwind, Kleidosty waited until he drifted about a bike length behind him and then attacked on a slight uphill into the headwind!  Kleidosty got an immediate gap and kept the power on the pedals until he turned the corner to the finishing straight.  Per Pitman's Strava file, his heart rate jumped about 20 beats per minute higher at the moment of attack and stayed elevated until the finish!
Erickson's selfless work helped Kleidosty secure the 40-44 National Championship jersey and 3rd overall in the race, while he finished 5th overall and earned the 30-34 National Championship jersey, besting his closest competitor by more than 17 minutes!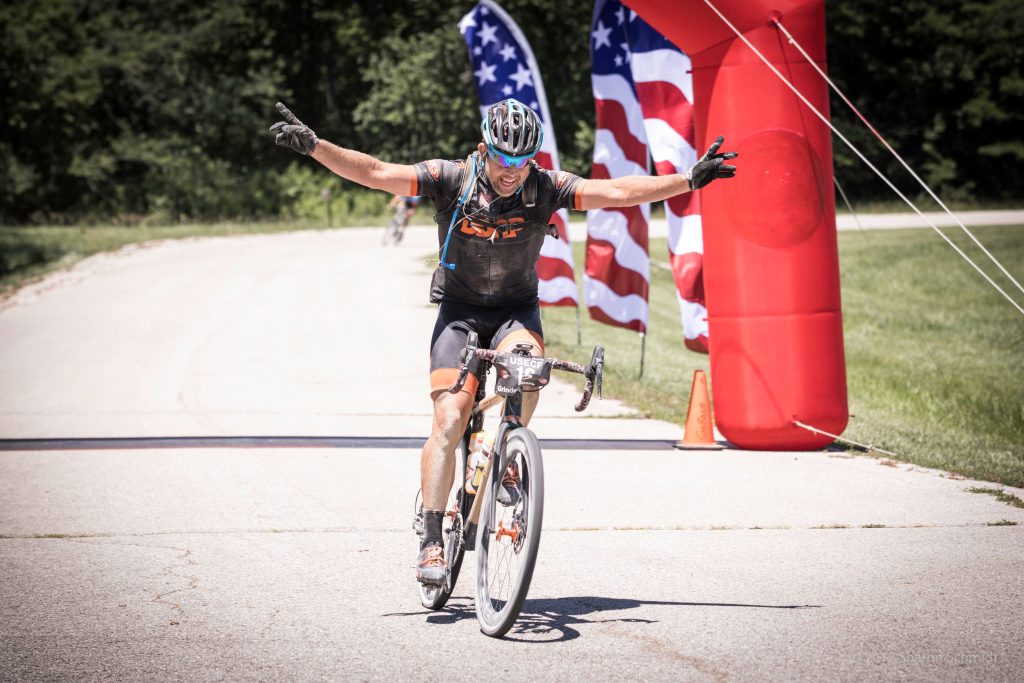 The author, Joe Kleidosty, after winning his first National Championship on his Boo SL-G
Vaught used his knowledge of the course to get away from his group while doing the second lap around Lone Star Lake, passed the 75-mile checkpoint without stopping for any fluids and was able to get out of their sight.  Vaught put in some hard efforts and shelled several riders.  Within a few miles of the finish, he was caught by a rider, who, very courteously, pulled him into the park. On the punchy climb in the park, Vaught pulled alongside the rider, Mike McCutcheon, and he looked like he may be in the same age group.  Vaught did not dare ask how old McCutcheon was – that would not be very sly of him.  As they turned the final corner, Vaught sprinted past him and beat him by 5 seconds.
When the results were posted, Vaught learned he won the 55-59 National Championship jersey and that McCutcheon was in the same age group!
Tomicki had a very strong performance, riding most of the day with her husband Tomasz, Meitler and Daly. Tomicki finished alongside her husband and won the women's 40-49 National Championship jersey, besting her closest competitor by almost 2 hours!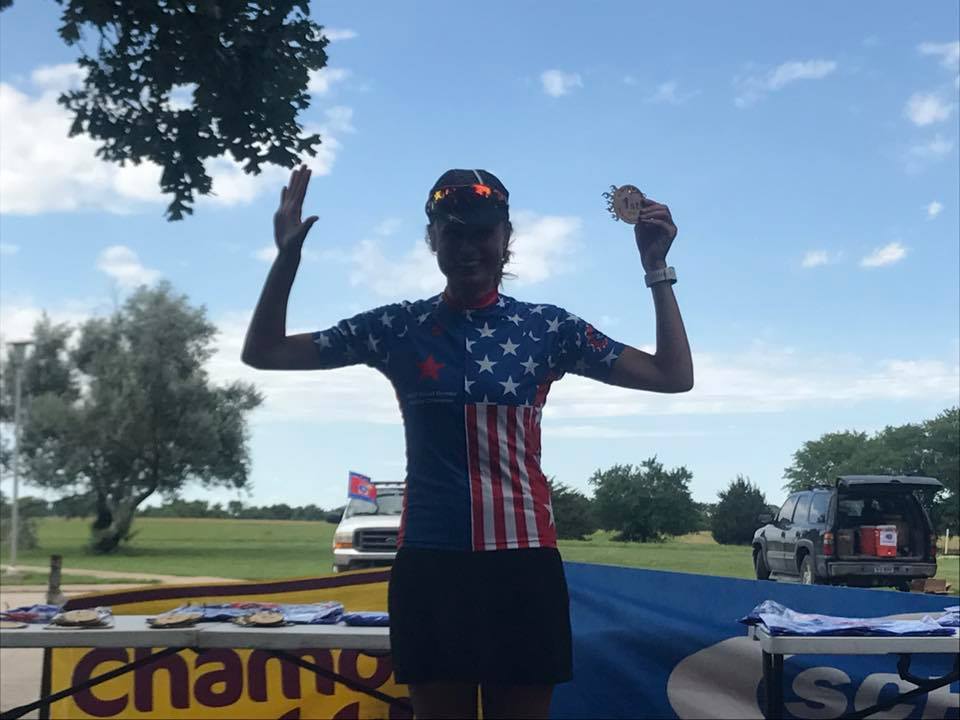 Meitler initially signed up for his age group, 40-44, but switched to the single speed category, as he plans to race that discipline the rest of the year.  Meitler was able to ride for a bit with the Tomicki's, but is still trying to perfect his technique for riding in a group on a single speed.  He was also able to get some assistance from Daly, who helped pull him for several miles into checkpoint 2.  But for the most part, Meitler rode much of the course solo and, at times, was battling what he refers to as The Darkman – when your mind starts to play tricks on you, telling you to quit and you can't do it.  Just seeing a teammate like Daly helped him get through the rough patches.
The course did not have any vicious climbs and with his 2.33 gear ratio, Meitler was able to grind up every hill and keep a solid tempo on the flats to put in a respectable single speed time of 7:12:49 for close to 113 miles of gravel, beating his closest competitor by almost 34 minutes.  With his first ever win, Meitler pulled the stars and stripes jersey over his head on the podium with a proud smile on his face!
Daly (50-54) and Clark (Women 50+) each earned podium spots – 4th in each of their categories.
There was one particularly yappy dog in Clinton State Park that was barking at 6:30AM and was still barking as the Dirty Dogs were finishing the race. We'd like to think he or she was cheering us on in the morning and was proud as we drove out of the park with 5 National Championship jerseys!
Special thanks to Springfield Brewing Company for keeping us well hydrated and full of carbs. Daly, Kleidosty and Vaught rode their new Boo SL-G custom gravel bikes to 2 national championships and a podium spot – there's nothing out there that smooths out the bumpy gravel roads like a Boo. Kent Woermann of Move Up Endurance Coaching trains Erickson and Daly, helping each to realize their true potential!  Special thanks to Sharon Schmidt of captureyourstory.net for taking great photos throughout the day.