I have been honored to work with many wonderful customers in the last few years. We have built hundreds of custom Boos, some of them raced at the National and World Championship level, but most of them ridden for thousands of joyful miles on gorgeous country roads and through epic mountain passes. We've gotten some incredible accolades along the way, too.
All along, I have gotten through the rough times, the setbacks, the difficult stages of growing a company from scratch, ONLY with the help and encouragement of the Boo family. Most of my friends and family are customers, and I have relied on each person in this ever-expanding group at one time or another.
Nothing in my life has brought me more joy than working with you all for the last four years. Every day is work, but every day is enjoyable…and I would rather have it no other way.
This brings me to me point: I know many, MANY of you fans, friends, family, and even current Boo riders either don't have the money for a custom bike (they aren't cheap) or know someone else who is in the market for a great rig but has a $2k budget. We all started there, and I even mowed yards for an entire summer when I was 15 to pay for my first road racing bike…a yellow aluminum Giant TCR 2 which I rode to 2nd place the following year at Junior Nationals and got a contract with Hottubes, a team that changed my life, got me into Princeton, taught me how to sacrifice for a leader, persevere through incredible struggles, and work hard for anything I want to achieve.
Bikes can and do change lives. I hope that Boo has changed a few, but I have always desired to open things up more…reach more people. Bamboo bikes, done well, can be unlike any other two-wheeled machine on the road. They can ride smoothly, perform well, look gorgeous, and make riders excited to get in the saddle. I've always said I don't care if Boo is "green", that if I can make someone want to ride their bike more and get exercise outside, maybe drive their car less and take the day off work to enjoy some wonderful weather…well, mission accomplished.
This is where Aluboo comes in. James Wolf, known by many as the Bamboo Master, has spent a number of years working on putting his special Iron Bamboo into a bike that would cost less. A lot less.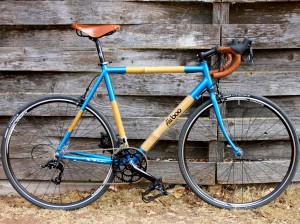 In my world, a nice wheelset costs $2,800. But in the new Aluboo world, that gets you a top-shelf Ultegra-equipped road bike. With disc brakes, if you want.
James and I have brought on Drew Haugen, another Princeton boy, and the three of us have worked tirelessly for the last 12 months to make this dream a reality. From design and engineering, to testing and branding and legal documents like you cannot imagine…we haven't slept as much as we should. But it's worth it, because this dream is quickly coming true!
We just launched a Kickstarter campaign yesterday to sell our first run of Aluboos. They are going like hot cakes.
James just got a bunch of production samples from an aluminum frame manufacturer, instrumental in the creation of the Aluboo frames, and the first frames are outofthisworldgorgeous.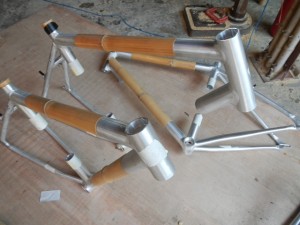 I'm super excited about this, and I want to bring Boo to so many more folks. The Aluboo is not custom, it's customizable. It's not a pure race machine, but it's race-worthy. It's not meant only for "serious cyclists", but serious cyclists love riding it. You just get on and pedal and smile. I did.
So please check out our campaign. If you feel like we're doing cool stuff, and want to be a part of it, then pick what you want on the right and make a pledge. Even $5 helps us out, and you'll get some cool stickers. But do check out the bikes–they are thoughtfully built, creatively designed, beautifully crafted, and come from passionate people. We all hope to instill this passion for two wheels in many, many more…and maybe change a few lives in the process.
Thanks for reading, and thanks so much for your support, past present and future. You guys rock 🙂