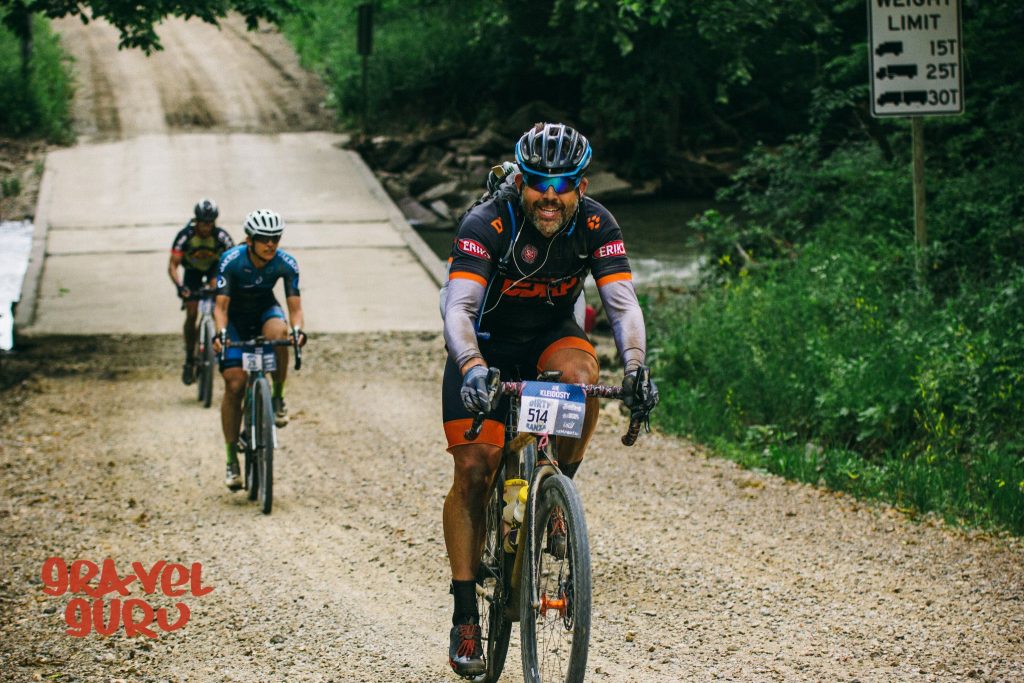 The author, Joe Kleidosty, during the 206-mile Dirty Kanza 200
Don Daly, Joe Kleidosty, and Greg Vaught, of Dirty Dog Race Pack, toed the line at Dirty Kanza in Emporia, KS, on June 3, 2017, aboard their new Boo SL-G custom gravel bikes.
Daly is the owner of three Boo Bicycles.  His current Boo SL-G is his favorite, equipped with SRAM Red eTap, providing flawless shifting while his bike glides over the gravel roads, and ENVE SES 4.5 AR Disc carbon wheels with Chris King hubs. Daly was not certain how he wanted to attack the 206-mile course, as he was really focused on doing well at the Gold Rush race on the following weekend.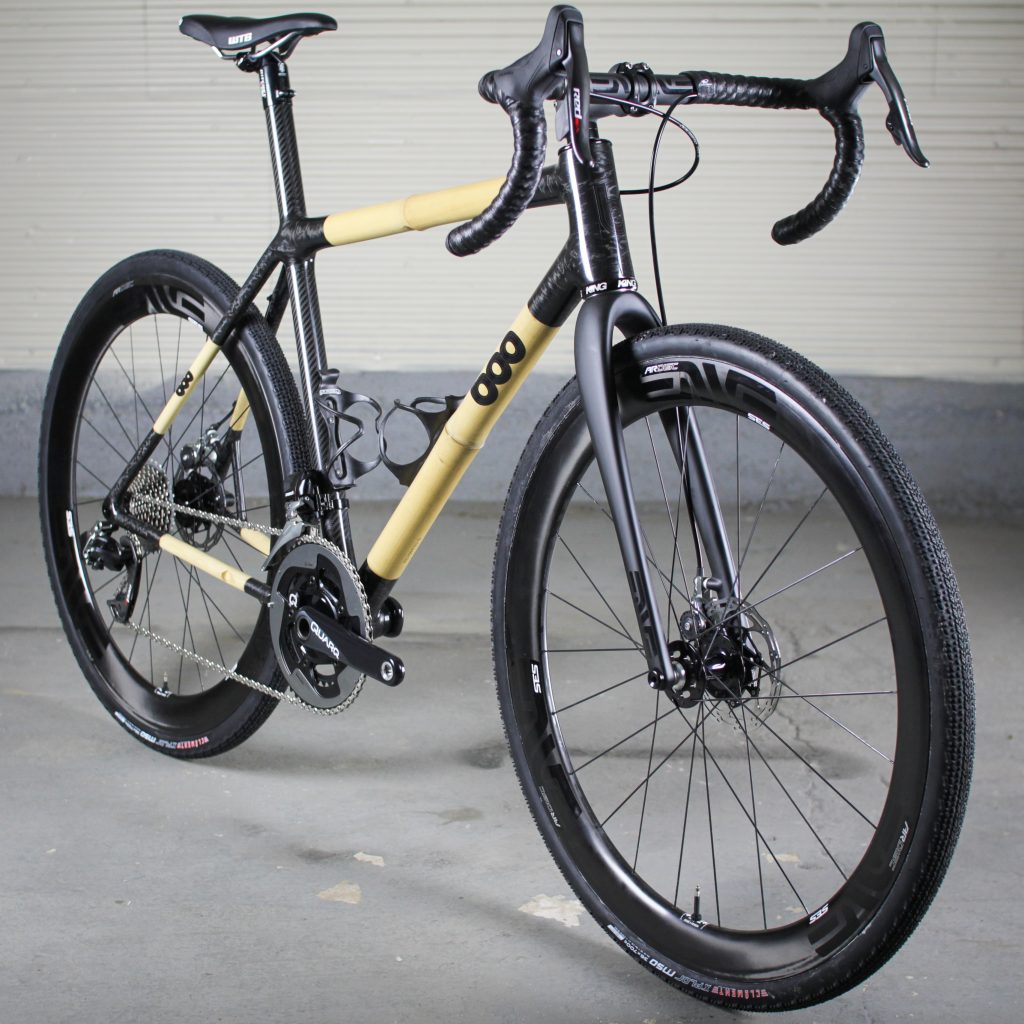 No photo of Don Daly – he's not very photogenic. But, oh boy, look at his Boo SL-G!
Daly hung with the lead packs, averaging close to 22 mph over the first 10 miles. The ride was so smooth and went by so quickly, he nixed his thought to quit at the 100-mile checkpoint (so he could party and help others finish) and decided to keep rolling. Daly already has three single-speed DK200 finishes to his name, so he hung out with single-speeder Thomas Adams (who eventually finished 2nd overall in that category) a bit on the course to reminisce about his days of mashing up hills on his single speed. Daly beat the sun, finishing 113th with a time of 13:09:00. Not bad for someone considering to just do half the course and call it a day!  Next year Daly will look to add a second geared DK200 finish to his resume and achieve his 1,000-mile grail.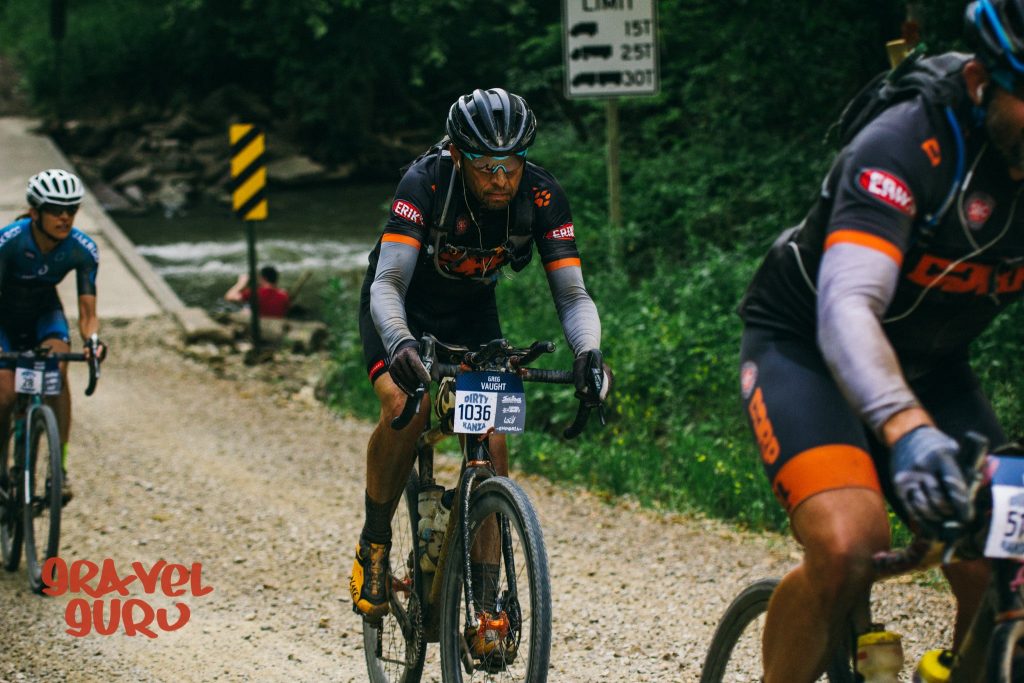 Greg Vaught on his custom SL-G gravel bike
This was Vaught's first Dirty Kanza experience, with his prior best distance being 120 miles at the Pony Express Gravel Dash in Marysville, KS, in September 2016. Kleidosty made a pact with Vaught, his close friend and riding partner, to stay together and help him get to the finish line before sunset.  Both were riding Boo SL-Gs with SRAM Force 1x set up and Enve SES 4.5 AR disc wheels with Chris King hubs.
Like Daly, Kleidosty and Vaught were in the front packs, averaging close to 22 mph over the first 10 miles. With it being Vaught's longest distance to date, the duo took a more measured approach once the rolling hills of the Flint Hills arrived. Kleidosty pulled for close to 200 miles of the 206-mile course. At one point, while Vaught was coasting and enjoying the comfortable ride, another rider asked if there was something wrong with his Boo.  Vaught said, "No. It's just my Chris King hubs buzzing like angry bees!"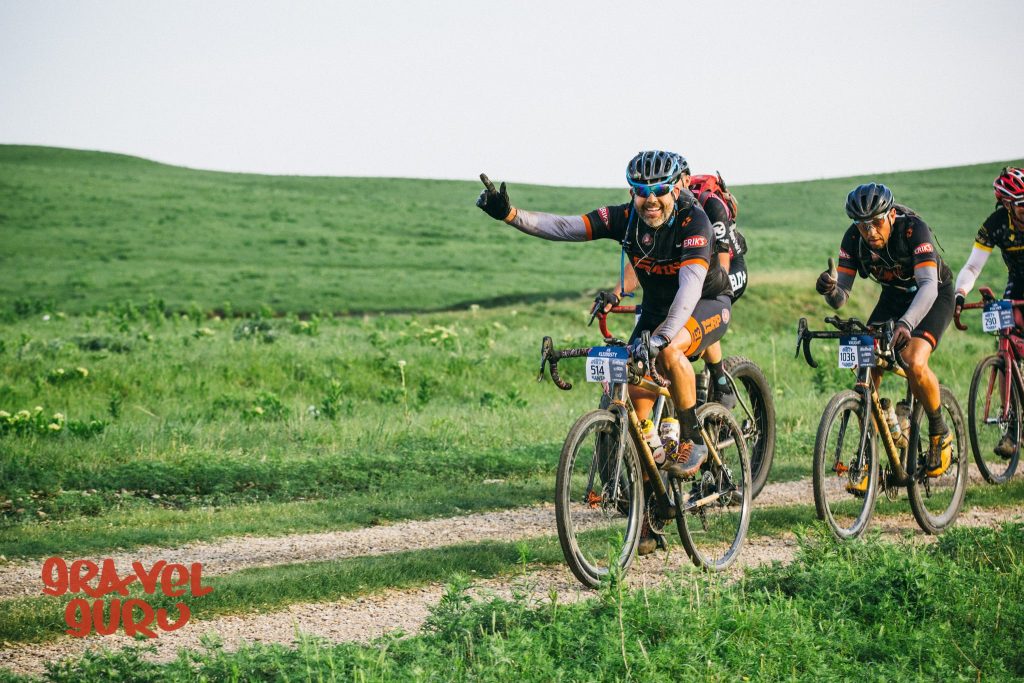 Photo credit: Gravel Guru. Kleidosty, left, and Vaught enjoying the rides aboard their Boo SL-G's around the 21-mile mark of the 206-mile course.
Along with the smooth ride, which is much appreciated in what can be some rough terrain in the Flint Hills, is the bottle security each had with their Arundel Mandible carbon bottle cages. No bottles were lost with the Mandible cages, which is a big help when you see a plethora of bottles lying on the ground along all the rough sections of the 206-mile course.
As can be expected when doing a grueling endurance event like Dirty Kanza (and when besting your personal best on mileage by 86 miles!), Vaught battled through some gastrointestinal issues on the second half of the ride. In spite of these difficulties, Kleidosty and Vaught also Beat the Sun on their Boo's, with times of 13:47:30 and 13:51:45, respectively.
Around the 200-mile mark, Kleidosty saw that Vaught was fine with another group of riders, so he took off to have a little fun with his Boo before the finish line!
Kleidosty felt great after the ride, commenting that no 30mm of travel in the fork was required on his Boo – no Lauf Grit fork required!