Words by Adam Blake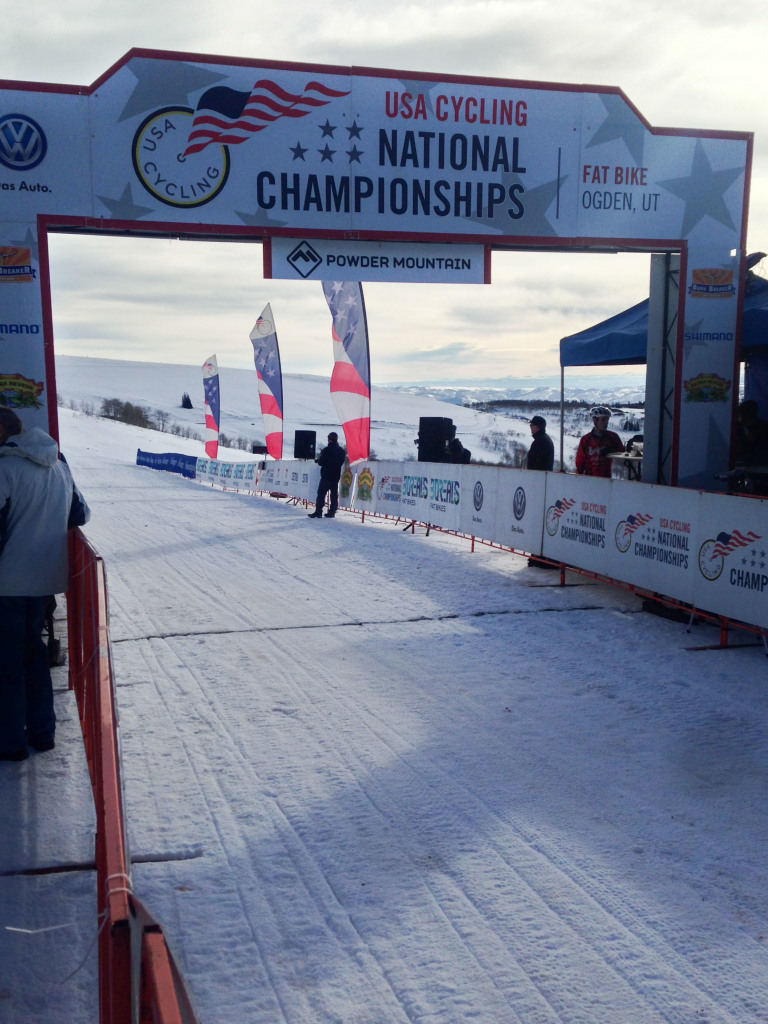 On February 14th, 2015 USA Cycling hosted the first inaugural Fat-Bike National Championships in Ogden Utah, at Powder Mountain resort.  At 9,000 feet the racers lined up for either two or three laps of a six-mile course.  Swooping down long bermed sections, racers navigated a speedy downhill first half, and were greeted with a nice, long, two-tiered climb to finish the lap.  Groomed almost 10 feet wide, the track was all powder, and got softer and softer as the day went on.
Racing started at nine o'clock with singlespeed racers toeing the line.  A.J. Turner, a friend from the Midwest and current Enve Composites employee / Ogden local, lined up on a custom built BOOlossal.  Decked out with an Enve cockpit and custom-built Industry Nine / Clown Shoe 100mm front / Rolling Darryl 82mm rear wheelset A.J. raced hard and brought home a third place podium finish.  He ran a 32×20 gear ratio and 45NRTH Dillinger 5" front tire with a smaller 4" rear—this was for maximum front floatation and a bit of dig in the rear.  Gearing was a really difficult call with lots of variables.  Beyond snow and elevation, racers had to contend with one another as well as a brisk headwind on the course.  A big thank you to A.J. for pushing the BOOlossal, and representing us on the podium!
Races went off about every two minutes from there, progressing from youngest to oldest in men and then women.  Ben Castaneda, Boo's lead mechanic, participated in the 19-29 category.  Not only did Ben participate, he also finished third in his class bringing home a second bronze medal in as many races!
Ben rode his own personal Alubooyah 18k with an XT 2×10 level build, custom Industry Nine / Rolling Darryl wheels, and Thomson cockpit.  It was Ben's first fat-bike race ever and he represented fantastically—INCLUDING being the first person overall to take a bacon hand-up on the top of the last climb, chewing his way to a spot on the podium!
Mark Guthart, another Boo friend, USA cycling official, and proud owner of the first-ever-and-award-winning BOOlossal, raced in the 40-49 category.  He had a great race, in a very tough category, fighting for position amongst a bunch of gritty competitors.
After the first group of racers there was a two-hour delay until the Elite men and women.  The temps were warming up and the lap times were dropping fast.  Elite men lined up first with names like Travis Brown and Ned Overend, eventual winner, in the mix.  Amanda Miller was aboard a customized Aluboyah and was our best chance at a National Championship.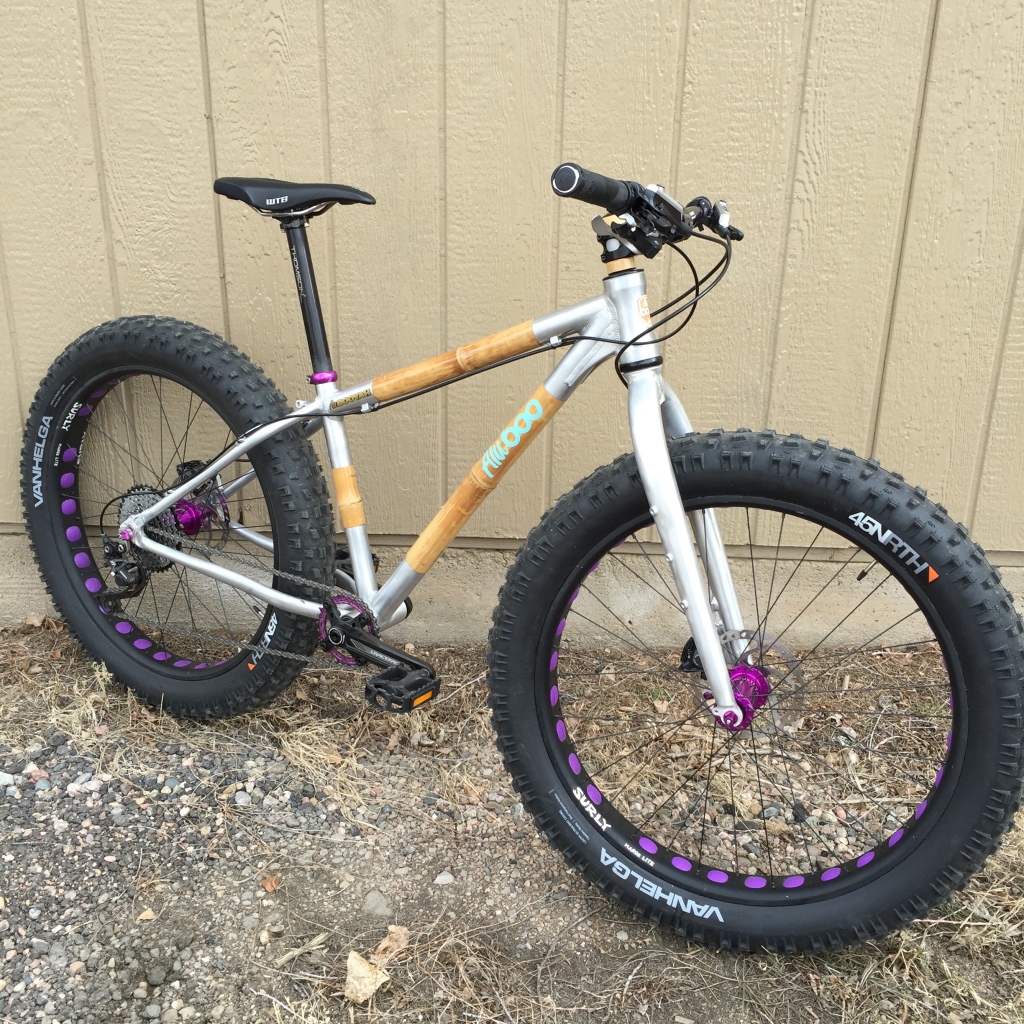 We built a bike specifically for the course, adding a 40t cassette extender and a 30t front single ring.  Amanda rode a 1×10 XT build, again with Industry Nine hubs laced to 82mm Surly Rolling Darryl rims, set up tubeless.  We also spec'ed the new 45NRTH Van Helga tires for Amanda, to maintain grip when the snow was melting.  The conditions deteriorated for many, but seemed like they were playing right into our plans.  Amanda had only ridden the fat-bike on snow once before…the previous day!  Thankfully she just put her confidence in us to dial in the tire pressure and all other details.
Amanda was going to have stiff competition with Rebecca Rusch, the "Queen of Pain" and designer of the course, leading the charge.  The Powder Mountain track didn't offer great viewing opportunities for spectators, so after the riders went out of sight, my heart started pounding with anticipation of what order the ladies would come through after the first lap.  About 100 yards past the finish line, I waited patiently trying to guess about how long it would take for the elite to complete a lap.
Finally I heard someone in the crowd say, "Yeah Amanda!" and my ears perked.  I looked to see the orange and black of her Boulder Cycle Sport kit coming off the berm and straight towards me.  As she passed she was so comfortable she even said words!  I could tell she was pushing but she seemed comfortable…her lead was established after just a single lap, and I counted 50 seconds.  I moved toward the neutral pit for another vantage point, and in case anything happened I could quickly support Amanda.  By the end of the second lap her lead had grown to 70 seconds and the butterflies were going crazy in my stomach!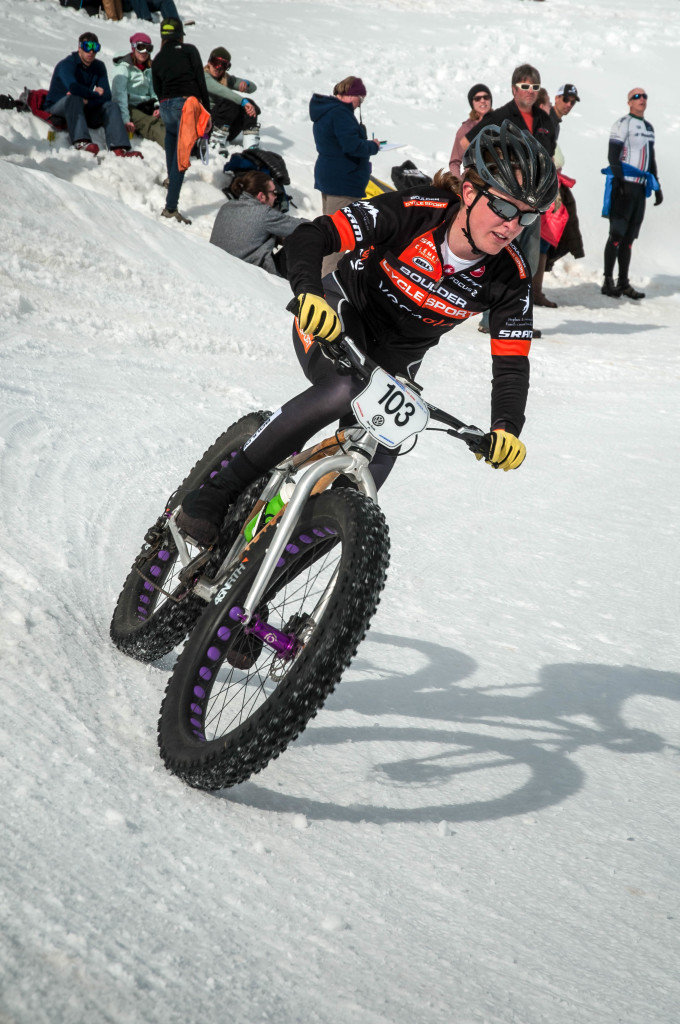 As a mechanic you really have to earn the trust of the racer and it is your duty to make sure that the bike runs perfectly.  That responsibility is even greater when I convince someone to ride our bike, and now any flub could cost Amanda the race.  I moved to the finish line and waited, almost holding my breath.  I began to watch the Elite men come through.  Ned Overend once again proved he may indeed be timeless by holding off a younger field of hungry racers, many of whom could be younger than his children.  More and more men came through and I began to worry.  "Did something happen? Did she flat?"
Finally after what seemed like forever I watched her cruising down the slope towards the finish, no women in sight.  Amanda crossed the finish and I lost my mind.  We at Boo couldn't be more proud of all our racers and especially the first ever Women's elite fat bike National Champion: Amanda Miller!